Disclaimer: This information is general in nature only. While Budget Direct has endeavoured to ensure the information we've relied on is accurate and current, we do not guarantee it. Budget Direct accepts no liability for this information.
Home invasions are a very real threat in Australia, and one that can carry some very serious consequences. But as is the case with any danger or risky situation, if you understand the risks and prepare ahead, you can usually keep yourself safe.
To help keep your home as secure as possible, we've compiled the top tips for protecting your house against break-ins.
Start by simply locking up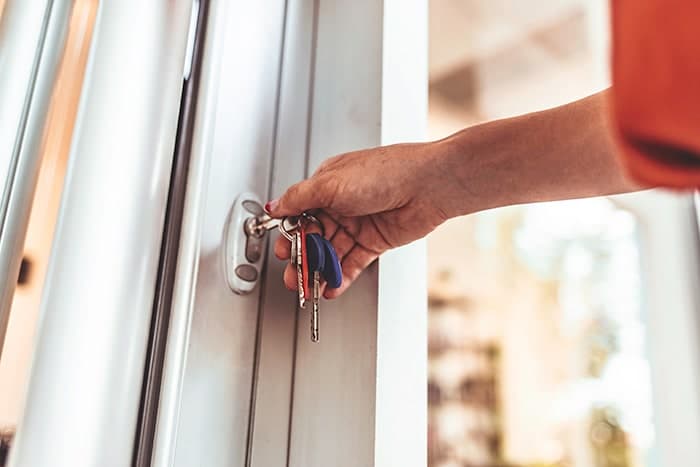 You'd be surprised by how many home invasions in Australia start by a criminal simply opening an unlocked door. If you're the type of person that regularly leaves without checking if the doors and windows are locked, create some routines to help stay on top of securing your home. You can start by:
Keeping all back/laundry doors locked at all times – If you open it, immediately lock it once done with the door. It might slow you down every now and again, but at least you know it's always locked when not in use.
Installing locks on windows that open – If you don't have proper security screens, burglars can simply slide windows open, and they're in. At the very least, installing some locks can keep lazy burglars at bay.
Take another look – One good habit when driving away from your home is to set off the wrong way down your street, turn around after 100m, and take a sneaky look before driving away properly. You can check that the garage door went down, there are no obvious curtains open, and you've generally left your home looking secure.
Don't forget about the top floor
If you have a two-story house, then chances are that it would be easier for a prowler to gain entrance on the second floor than at ground level. Most people don't consider their upper-story windows and balconies when they plan for home security.
Criminals, on the other hand, see no need to neglect possible entrances when all it takes is a short climb to reach them.
Make sure to trim away any low hanging branches that could be used to gain access to your roof, and if the locks on your upper-story windows and doors aren't up to par, replace them. Don't wait until your home has been broken into to start taking steps to protect it.
Never leave a spare key outside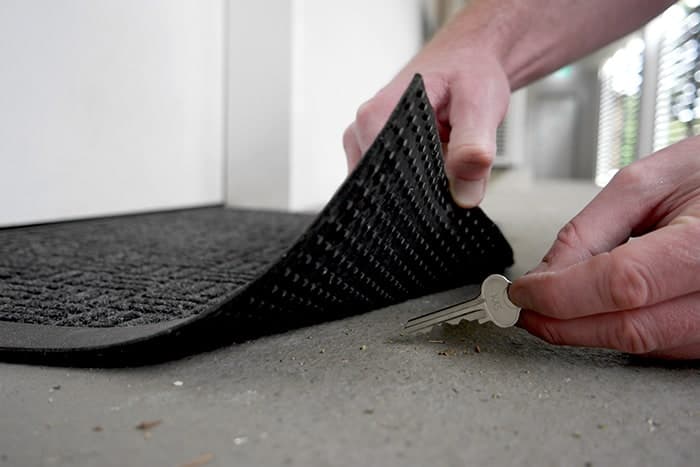 If you've ever been locked out of your own home, then you understand the motivation to have a spare key "hidden" outside. The only problem with this plan is criminals know all the "hidden" spots people use.
Give a burglar 5 minutes, and they'll have checked all the natural places you might have hidden a key. And about 10 seconds later, they'll have used that key to let themselves in.
If you need a back-up option for getting into your home, leave a key with a family member, or trusted neighbour.
Don't let door-knockers window-shop
It may sound paranoid, but the truth is that some criminals will actually pose as door-to-door salespersons in order to try to case your home. They can take note of any valuables you own, what kind of locks you have, if there are any pets they should be concerned about, and plenty more pieces of handy information.
Electronic doorbells with in-built cameras are worth their weight in gold. It not only tells potential thieves that the home is monitored, but also means you can usually chat to door-knockers without ever opening the door. The only thing they'll have learned is your home isn't worth the trouble.
Be smart with your rubbish
Another trick criminals can use is checking your bins, or looking for the remains of any big-ticket purchases you might have made. If you casually have the box for a 70" TV laying outside, the whole neighbourhood will know you've got something valuable inside.
If you do have any boxes that indicate to thieves that your house is worth investigating, cut them into hundreds of pieces, and hide them in your wheelie bin. If you want to go the extra mile, you can even drive oversized boxes to the tip yourself.
Light 'em up
Sensor lights are one of the oldest, and most proven means of securing your home. No burglar wants to be circling a property cloaked in the darkness of the night and have an industrial-grade spotlight suddenly flick on.
These days, you can even buy sensor lights with inbuilt cameras, so if they catch motion, they'll even start recording. There can't be many better sights than watching a terrified wannabe-burglar scrambling to escape as their cover is blown.
Make your home look cared for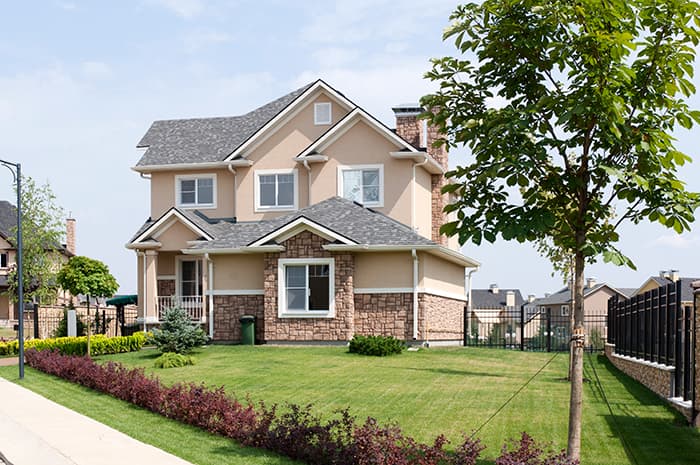 Thieves love the sight of uncollected mail and newspapers, and lawns that clearly haven't been gardened. To experienced eyes, that usually means the occupants aren't home.
If you do decide to leave town for more than a couple days, always arrange a trusted house-sitter, or for a neighbour to simply keep up appearances.
Understand that unfortunately, thefts can still happen
Even if you feel your home is as safe as it could possibly be, there is a chance that the right thief on the right day will beat the system.
The final layer of protection you can take out is having home and contents insurance in place, should the worst happen. At least you'll have a helping hand and you won't have to start from scratch.