Rain used to be a state of mind. Cities like Seattle and Manchester pride themselves on being the rainiest in their respective lands. But are they wrong?
Today, rain is in a state of crisis. In the Chinese city of Zhengzhou, 25 inches of rain in a single day this summer claimed dozens of lives. This was in the wake of Germany's deadliest floods in half a century. Last year, enough rain to fill Loch Ness fell on the UK in 24 hours, the country's wettest day on record.
The climate crisis has intensified the likelihood of heavy rainfall around the world. To see where it's falling, Neomam Studios, on behalf of Budget Direct, has used Climate Data to count the number of rainy days per year (with at least 1 mm of rain or snow) for 64,429 cities around the world.
Key Findings
The wettest city in the world is Buenaventura, where it rains 258 days per year.
Australia's rainiest city is Cairns in Queensland, with 117 days of precipitation.
The UK's wettest city is Londonderry in Northern Ireland (147 days).
The wettest city in the US is Hilo, Hawaii (211 days).
The world's least rainy 'wettest cities' are Riffa (Bahrain) and Al Khor (Qatar), with 10 rainy days each.
The World's Rainiest Cities
This map shows the cities with the highest amount of rainy (>1mm precipitation) days per year in every country. The red and pink sections suggest the north of Africa is the driest region. The darker blue identifies parts of Asia and South America to have the wettest cities.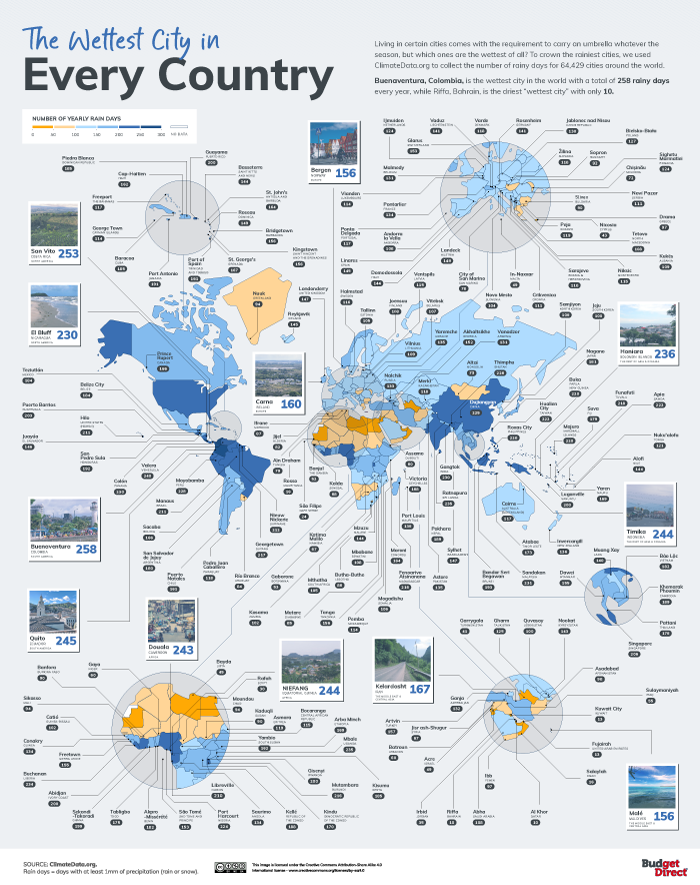 It might be a surprise to see snowy Greenland among the driest areas. In fact, the sea air cools the climate and dries the air, reducing precipitation. However, the weather is very changeable in Greenland and susceptible to climate change. Rain is becoming more common, and rain, in turn, melts the falling snow, contributing further to warming. However, Greenland's 2021 spring was good for snowfall – which contributes to our 'wetness' factor.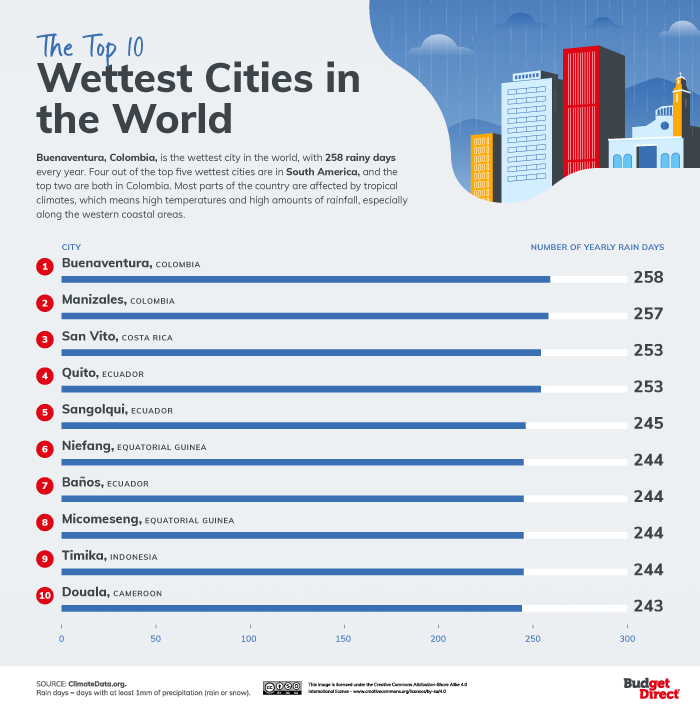 At the wet end of the scale, however, is Buenaventura, the rainiest city on Earth. And when you allow multiple cities from each country into the equation, a Colombian city also takes second place: Manizales. The Andes act as a natural barrier to moist air, which expresses rain during multiple rainy seasons across Colombia. Buenaventura is particularly vulnerable due to its location.
Australia's Wettest Cities Clustered in the North
Australia is not known for its rain. In fact, we found 125 countries with a rainier 'wettest city' than Australia's. But that doesn't mean you should leave your umbrella at home. Australia's rain capital, Cairns, suffers 117 rainy days per year. Of course, it depends on the time of year: Cairns' tropical climate makes for a dry winter and a rainy season featuring tropical monsoons and cyclones from November to March.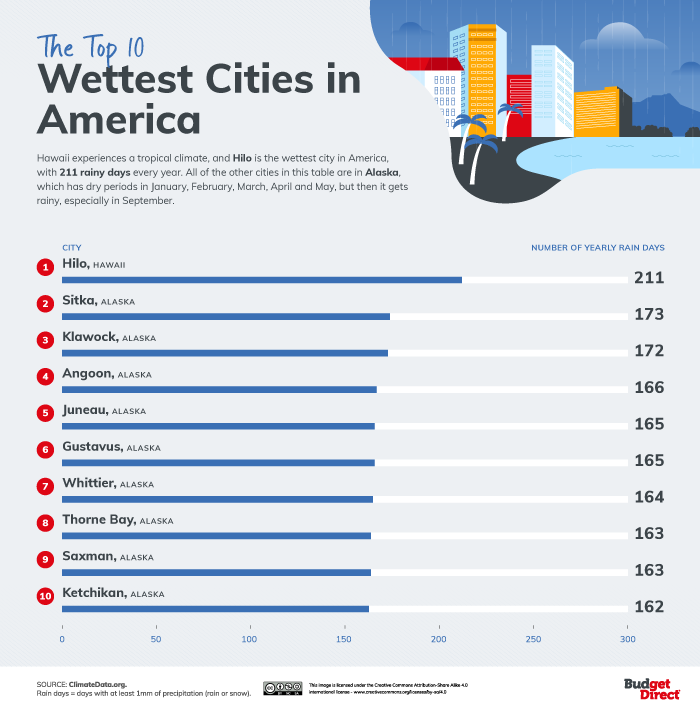 Queensland cities share the honours with Australia's 'Top End' – the neighbouring Northern Territory, where Darwin and Palmerston take second and third place. There are upwards of 100 days of rain in Top End cities every year – but get your timing right, and a visit to the territory will be a sensual treat of saturated natural colours, warm beating rain, and thundering waterfalls.
Hawaii and Alaska are the Wettest States in the US
Our next data visualisation illustrates the respective raininess of the wettest cities in every American state. The outlying states of Hawaii and Alaska have significantly rainier cities than the rest of the US. Moisture floats off the Pacific and up slopes of Mauna Loa and Mauna Kea before condensing over Hilo, Hawaii's biggest city.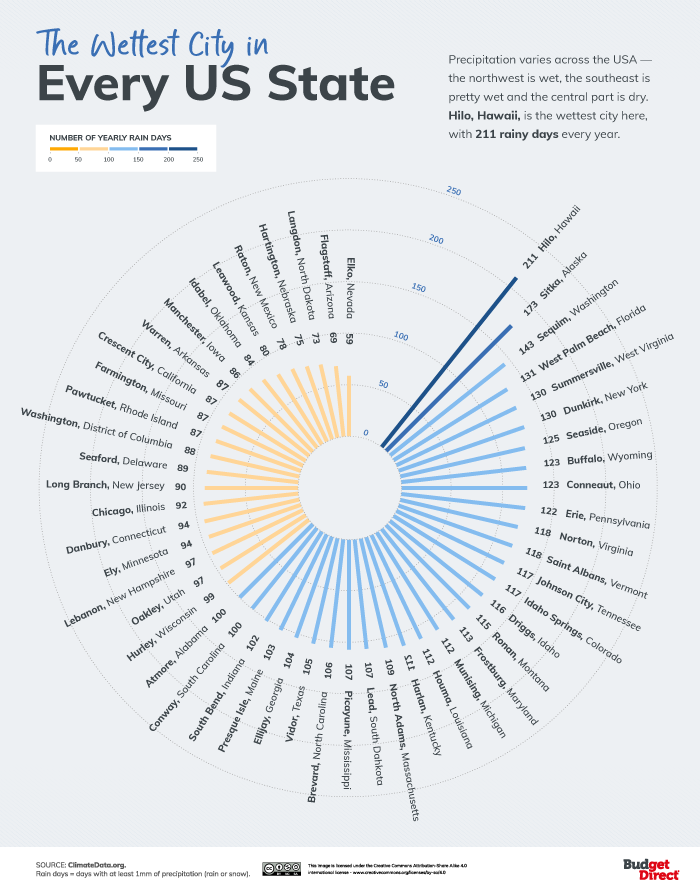 It's a different story in Alaska. You may associate the state with ice and snow, but much of the southern part – including Baranof Island, where Sitka is found – is dominated by temperate rainforest. It rained a record-breaking 70 days in the period from June-August 2020. "The rain has just been merciless," said famed local author John Straley.
Costa Rica has Three Weeks More Rain than the Rest of Central America
Three cities in lower Central America stand head-and-damp-shoulders above the rest for rainfall in this region: San Vito (Costa Rica, 253 rainy days/year), El Bluff (Nicaragua, 230), and Colón (Panama, 230). These countries are on the narrowest part of the Central American isthmus, susceptible to trade winds coming in from the surrounding waters.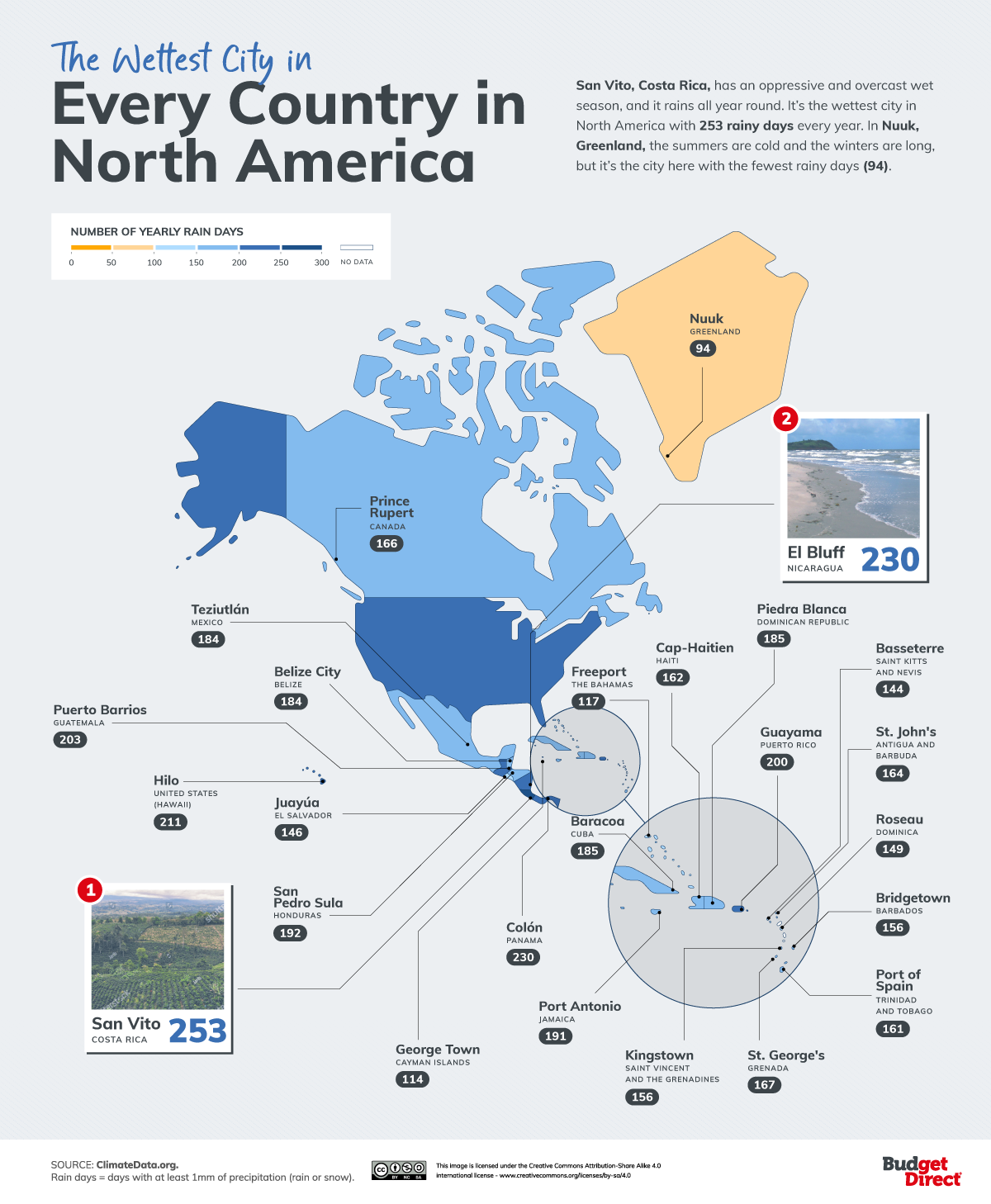 But the US is up there, too. "Data from the recent U.S. Climate Assessment show that heavy rainfall is increasing in intensity and frequency — particularly in the U.S. Northeast," explains Dr. David Novak of NOAA's Weather Prediction Center. "At the same time, our vulnerability to extreme rainfall is increasing — and the effects of excessive rain are more impactful — as more people are living in low-lying areas, and land development is changing drainage patterns."
Buenaventura, Colombia, is Wettest City in South America and the World
Colombia's wettest city gets nearly a fortnight more wet days per year(258) than second-placed Quito, Ecuador (245). Colombia also has a claim to being the wettest place in the world – for the smaller village of Puerto Lopez. "There is a constant moist tropical onshore flow from the Pacific Ocean here," explains weather historian Christopher C. Burt. "The mountains block that flow and almost perpetual rainfall results over Puerto Lopez. I believe it averages over 320 days of rain a year."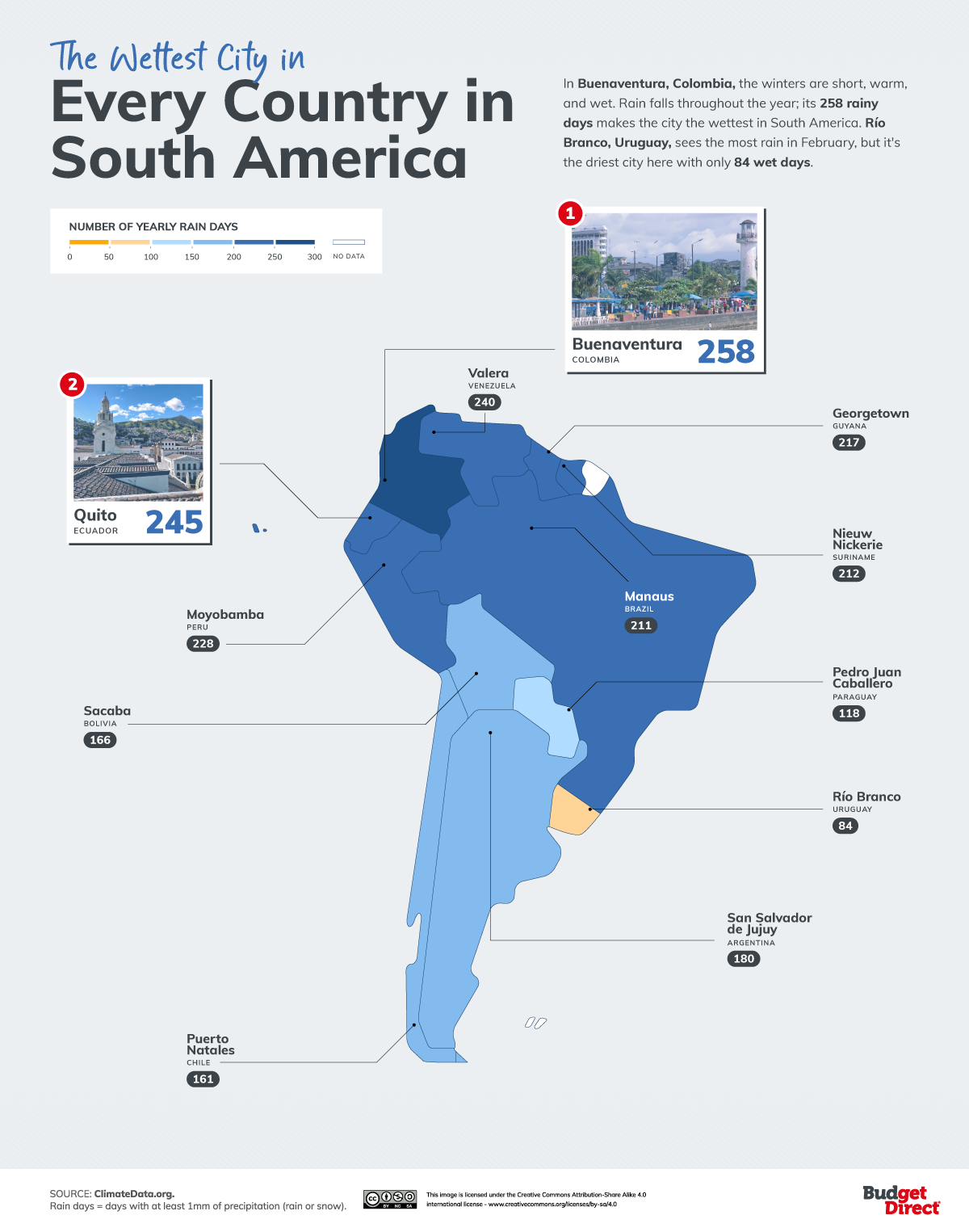 Like the UK, Brazil suffered a record-breaking extreme rainfall event in 2020: 320mm in 24 hours. It was not an isolated shower. Brazilians are used to 'summer rains' but are particularly vulnerable to flooding due to the fragility of favela settlements and Brazil's position on the front line of climate change. For now, however, Brazil's wettest city (Manaus, 211 days) is the seventh rainiest city in South America.
Carna, Ireland is Europe's Wettest City
Europe's wettest national cities are spread across the continent, with the top four covering the west (Carna, Ireland, 160 days), north (Bergen, Norway, 156), centre (Glarus, Switzerland, 153), and east (Akhaltsikhe, Georgia, 152) of the continent. The southern cities of Linares (Spain, 145) and Domodossola (Italy, 144) are also in the top 10.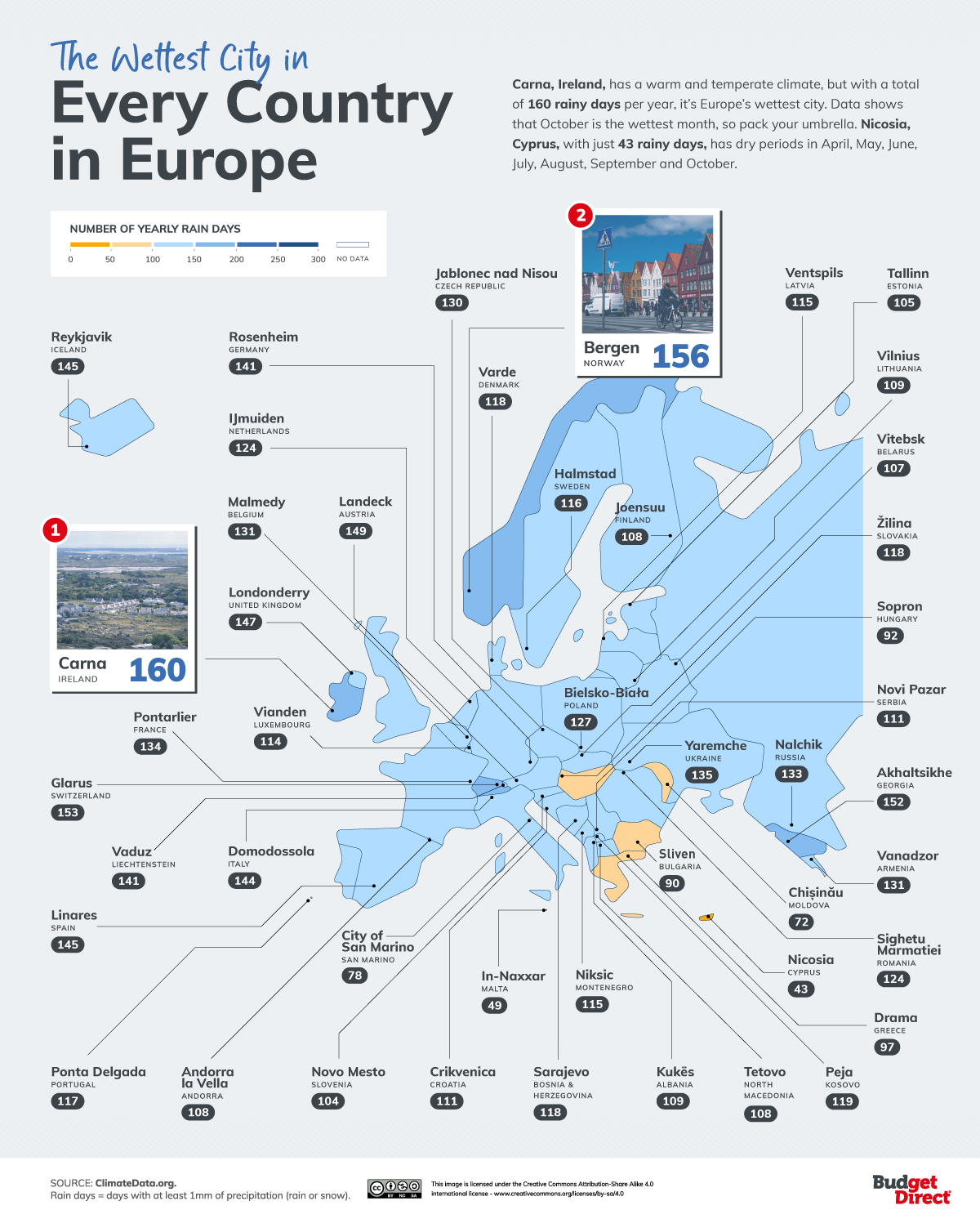 But it is central Europe that has hit the deadlines most recently, with hundreds killed across Germany and Belgium in the July 2021 floods – Europe's 10th deadliest in a century. Belgium's wettest city, Malmedy (131 days), only gets around half the rainy days of world number one Buenaventura, but the trouble is that these relatively dry European landscapes are not used to extreme rainfall, which is now occurring in widespread, sustained downfalls rather than more localised, passing thunderstorms.
Iran Experiences Highs and Lows of Middle-Eastern Rainfall
There is a significant disparity between the top rainfall in countries across the region. The wettest, Kelardasht in Iran, has 167 wet days per year, against 10 days per year in Al Khor, Qatar. Iran and Qatar may be neighbours, but Kelardasht is at the top end of Iran and on the Caspian Sea rather than the Persian Gulf.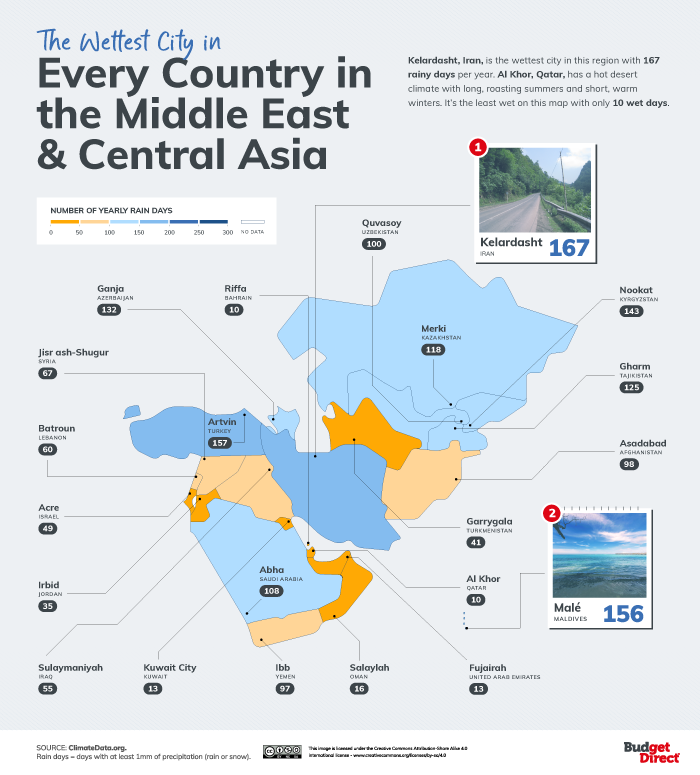 In fact, Iran has one of the most diverse climates in the world - we found Iranian cities with as few as 10 wet days per year, too. The northwest of Iran is subtropical, the south is tropical, and the centre experiences continental and mountainous weather. The foggy city of Kelardasht is actually celebrated for its clean, breathable air, in a climate modulated by nearby jungles, mountains, and lakes.
An Indonesian City is Wettest in Rest of Asia & Oceania
Timika in Indonesia is this region's wettest city. With a tropical rainforest climate, the city experiences 244 wet days per year. India's wettest city is the fifth wettest rain capital in the region, with 230 days per year. India is another place with a claim to fame for the wettest spot, regardless of city status: the area known as Mawsynram, a Guinness record-holder, with nearly 12 metres of rainfall per year – most of it in just six months.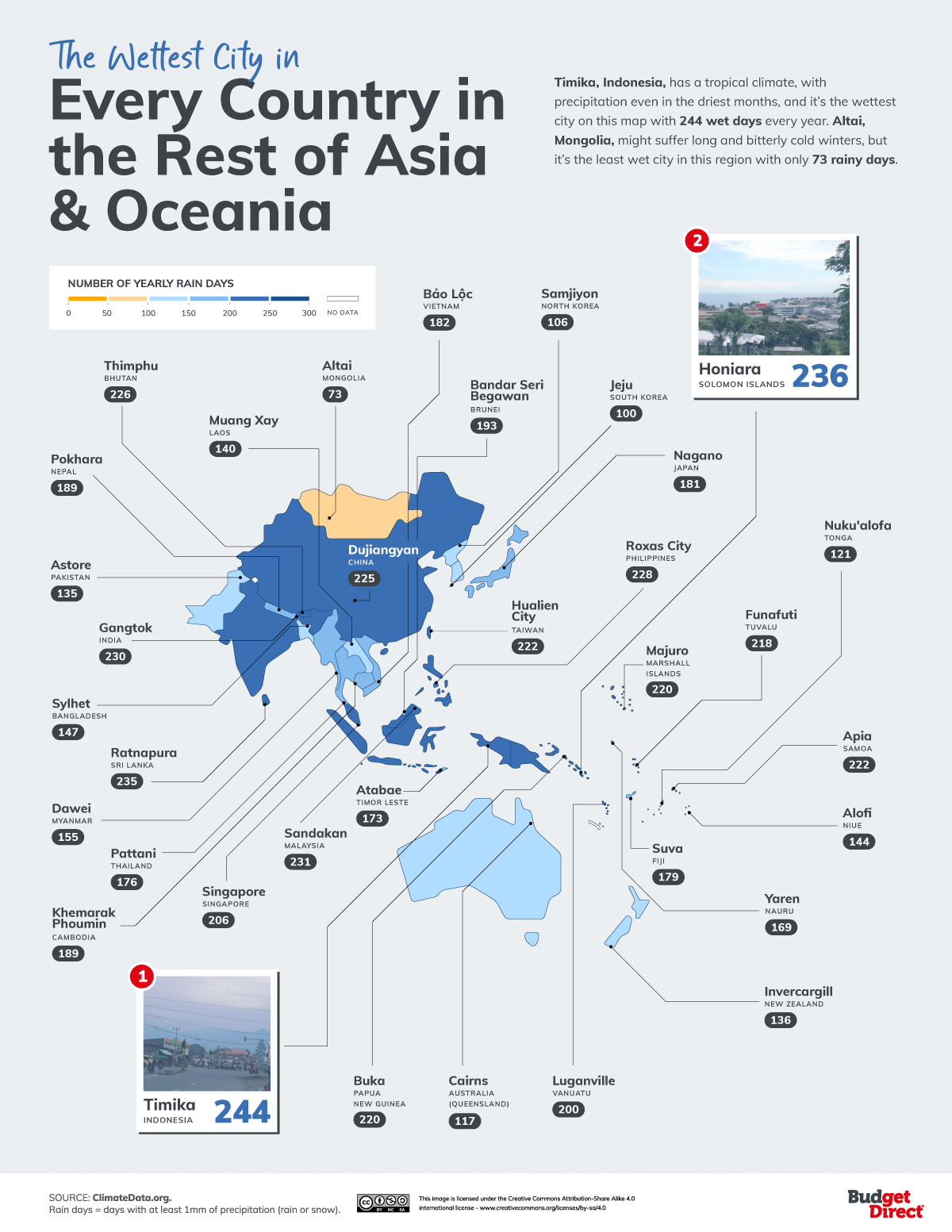 Cairns is Australia's wettest city, with 117 days, compared to 136 for New Zealand's wettest city, Invercargill. Of course, despite being neighbouring countries, the cities aren't close to each other. Invercargill has a temperate oceanic climate and is nicknamed the 'city of water and light' for its charming twilight hours, marine reserves, and abundant rainfall.
African Cities Experience Both Extremes of Rainfall
The wettest African cities are comparable with the wettest in the Americas and Asia. However, Africa has 19 countries with fewer than 100 rainy days per year, including four with fewer than 50 rainy days.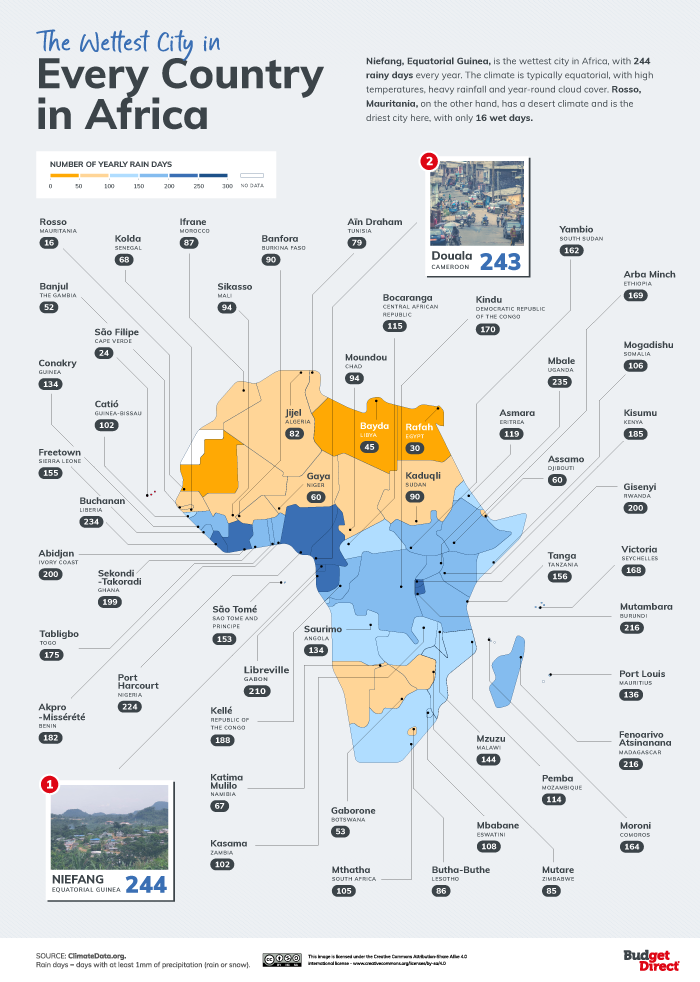 Of the 10 African countries with greater than 200 days of rainfall per year, Niefang in Equatorial Guinea is the wettest (244 days per year). Being equatorial, the weather here is humid and cloudy, with a resulting lushness of vegetation.
Rain is a Deadly Necessity
The recent flooding tragedies have not occurred in isolation and are generally considered a symptom of global warming. The atmosphere can hold more water in a warming climate. That water is supplied by a vapour that evaporates from the warming oceans and the drying landscapes alike.
According to one study, a human influence made the Loch Ness incident 2.5 times more likely to happen. By the end of the century, these researchers predict a "10-fold increase in the chances of such extreme rainfall events." In such conditions, preparation, insurance, and a commitment to fight climate change are our best allies.
METHODOLOGY & SOURCES
We used Climate Data to collect the number of rainy days for 64,429 cities around the world. Note that "rainy days" consist of days with at least 1mm of precipitation (rain or snow). The dataset was compiled in June 2021.