Disclaimer: This information is general in nature only. While Budget Direct has endeavoured to ensure the information we've relied on is accurate and current, we do not guarantee it. Budget Direct accepts no liability for this information.
Moving into a new home is an exciting time, as for all the preparation involved, maybe not as exciting.
But it doesn't have to be stressful, follow some of these smart organisational tips before you get packing.
Know the size of your future space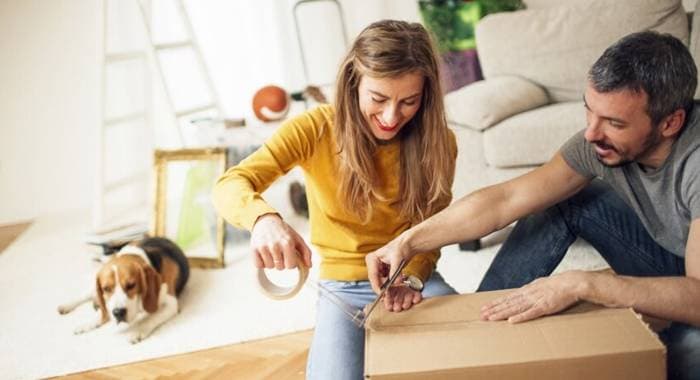 Before packing room by room, have a clear picture of your new home's layout and how much space you have available.
"It's about establishing limits, and how much space you're moving into has," says Peter Walsh, professional organiser and bestselling author on decluttering.
"You need to look at what you're packing and only pack what fits into the space you're moving into."
If you're unable to access a floor plan through your real estate agent, create one yourself using a free online tool like Autodesk Homestyler or, design your own blueprint by taking photographs and getting measurements of all the new rooms.
Ensure you capture the heights of the ceilings and windows, along with the dimensions of cupboards and pantries.
Start decluttering before you pack
Once you know how much space you have, start clearing your home of the things you no longer need or want – before you begin packing.
This is a great way to start fresh in your new home, ending the cycle of clutter and improving packing efficiency.
You can ease the stress of weeding through items by taking it one room at a time. For each space, you'll want to determine what to keep, donate, sell, or throw away. Create separate piles for each.
Take it one room at a time
Kitchen
While weeding through kitchen accessories, it's important to remember the amount of cupboard space your new home has to determine what you'll take, and what you'll get rid of.
Chucking or donating any homewares you have multiples of is always a good idea.
How many cake tins or plastic takeaway containers do you really need? Broken appliances you've never gotten around to fixing can go, too.
When it comes to sorting food from your pantry, freezer, or fridge, make it a priority to plan as many meals as you can, using up the edibles you have.
This will take some weight out of your packing and reduce the risk of spoiling.
Holding back from supermarket sprees in the weeks leading up to your move will also help.
Canned goods are a bit weighty to move and can take up more space than you have. So, you might prefer to donate these.
Otherwise, any unopened, pre-packaged items or dried goods can go with you. Just be sure to check the expiration dates on everything, before you pack.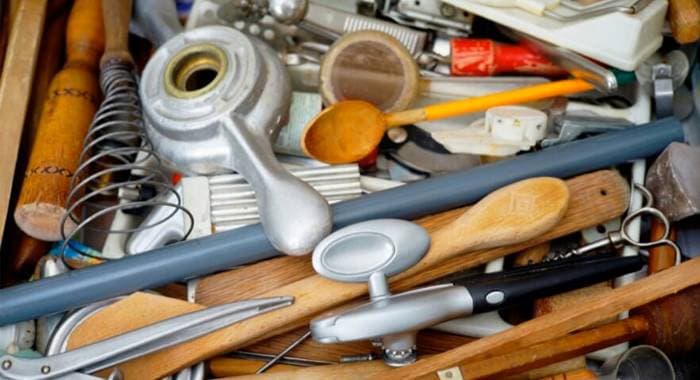 Living room
Knowing how much furniture your future living room can hold is helpful when determining which furnishings to move, donate, or sell.
Once you've made those decisions, begin disassembling furniture well in advance of the move, while you have the stamina and spare time – because this takes a lot of both!
Begin by dismantling removable parts such as legs, frames, doors and tabletops, and put the hardware (nuts, bolts, etc.) in labelled plastic bags. These can then be taped underneath the item.
If the piece has numerous parts, it helps to number each part using a labelling sticker that indicates part: 1 of 6, 2 of 6 and so forth.
Home office
Paperwork can be a big source of clutter. Worse, it can be hard to know what to keep and what to throw out.
The Australian Taxation Office recommends hanging on to the past seven years' worth of tax-return documents, bank statements and pay stubs.
But if you're feeling uneasy about shredding anything older than that, you can always scan and save documents, digitally.
Newspapers and magazines can also take up more space than we realise. Ditch anything over a month old. Don't be afraid to tear out articles to read later or scan them.
Moving is also a great time to back up your computer files and photos using a cloud storage service or external hard drive. When moving you risk damaging items, including computers.
So, it's smart to protect any digital items you don't want to lose.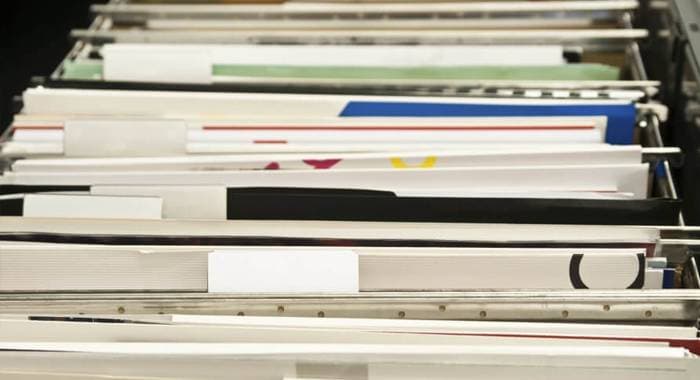 Bedrooms
Sorting through a bedroom's dresser and wardrobe can be a daunting task. How do you know what to keep and what to donate, sell, or throw away?
Andrea Rapke, owner of 'The Organised Move', a Los Angeles-based design, organisation, and relocation concierge, says: "I advise my clients to donate anything they haven't worn in more than two years that has no intrinsic value.
Also, if it's two sizes too small or two sizes too big, get rid of it."
Keep in mind anything with stains and tears serves better as a cleaning rag than a donation.
Any expensive fashions that are still in good shape might get you some extra cash by putting them on online classifieds like Gumtree or eBay.
Closets and garage
The key to effectively clearing out closets, the garage, or other general storage spaces is remembering this rule of thumb: If you haven't used an item in years, there's probably no point in moving it to your new space.
Naturally, you may uncover items of sentimental value. Think shoeboxes of travel mementos and family heirlooms, which can be emotionally difficult to downsize.
If this is the case, ask yourself if the item is the best symbol of that memory or person you received it from.
This thought process can help you offload any "multiples" you have of past experiences or people.
Insure it all
Once you've cleared out the clutter, you're ready to begin packing all the items you do need to make your new house a home.
But before you head to your new abode, remember to insure your things against damage or loss during the move.
Happy moving!