Disclaimer: This information is general in nature only. While Budget Direct has endeavoured to ensure the information we've relied on is accurate and current, we do not guarantee it. Budget Direct accepts no liability for this information.
Australia's weather and climate are changing in response to the global climate.
Not only are the intensity of storms and specifically thunderstorms increasing but they can also cause heavy rainfall that can impact your home.
In some regions of Australia there are bushfires that can even generate storms within their smoke plumes. These storms can lead to dangerous fire conditions, as seen in the 2019-2020 summer.
With more unprecedented weather on the horizon, here are several steps you can take to minimise the risks and consequences associated with storms.
Step 1. Secure loose items and around the house
Severe thunderstorms typically bring strong winds, which can turn loose objects around your home into dangerous projectiles.
Take time to remove or secure loose items on your back veranda or in your yard, including outdoor furniture, trampolines and building materials.
If a piece of roof sheeting, for example, is sent flying, it could smash through a window or damage cars parked in the open.
If you're going on holiday, batten down before you leave.
Step 2. Clean gutters to prevent blockages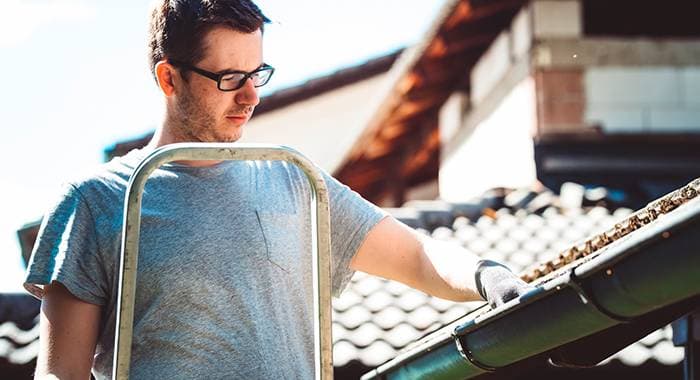 Clogged gutters can cause heavy rain to overflow and collect around the foundations of your home.
Unchecked, this can lead to cracks in your home's foundation, which in turn can damage its structure.
This water can also infiltrate your home, seeping into your home's roof and/or wall spaces, damaging your contents and triggering mould.
You can avoid these scenarios by regularly cleaning your gutters, especially before storm season.
Step 3. Trim trees and branches near your home
Severe storms can saturate the tops of trees with water and soften the ground around their roots.
Throw in some strong wind gusts and it explains why storms can break branches or knock entire trees over.
Trees that are close to or overhang your home can cause extensive damage if they fall.
Trim back any overhanging branches and ask a tree surgeon whether any large trees on your property pose a danger and ought to be removed.
Before getting a tree removed, check whether it's a protected tree. If it is, you'll probably need to your local council's approval to remove it.
If the problem tree is on council land or growing into powerlines, ask your council or utility provider respectively to consider trimming or cutting it down.
If strong winds are forecast, park your car away from trees, if possible.
Step 4. Fix any damage to your roof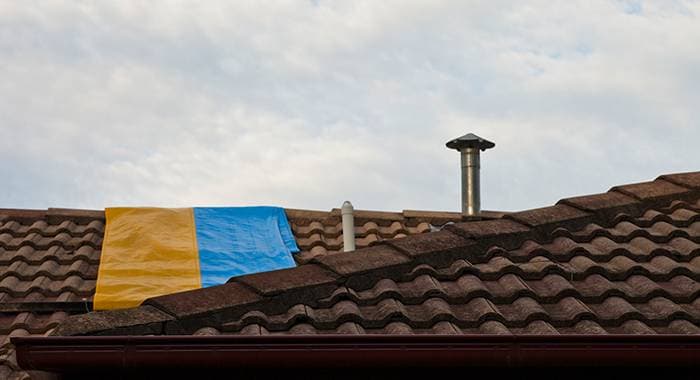 Your home's roof is its first line of defence against storms – it's condition is therefore critical. Check your home's roof annually to ensure there are no damaged, unsecured or misaligned tiles or metal sheets.
Rust or discolouration can also signal potential problems.
If in doubt, go inside your roof void. If you can see light it may be a sign your roof is damaged. While you're there, give the air a sniff: A damp, stale smell could spell trouble.
Roof repairs can be technically challenging and physically treacherous, so are best left to professional roofers to carry out.
Step 5. Check your insurance policy is adequate
Does your home insurance policy cover damage or loss due to violent winds, lightning, rain, hail and snow?
Budget Direct Home and Contents Insurance provides protection against all of these events.
This cover includes the escape of rainwater from any water pipe, drain or gutter; and surface run-off of rainwater from surrounding areas that occurs within 24 hours of the storm or heavy rain.
To be covered for water damage resulting from a flood, you need to take out optional Flood Cover.
Note that Budget Direct does not offer insurance for homes north of the Tropic of Capricorn.
Step 6. Prepare an emergency kit
In the middle of a storm, it can be difficult to find the things you need to get through it, especially if there's a blackout.
That's why it's advisable to plan ahead and gather together all the things you'll need when bunkering down.
Suggested emergency-kit items include:
torch
emergency contact numbers
battery-operated radio
replacement batteries
first-aid kit
essential medications
bottled water
important documents.
Related article: How to prepare a home emergency plan
Step 7. Keep up to date on weather warnings
Monitor the media and government websites for weather warnings and updates.
Among these are the Bureau of Meteorology's severe weather warnings, which describe the area under threat and the expected hazards.
Note that the lead time of these warnings can vary from just an hour or two to 24 hours or more.
If you have a battery-powered radio, you'll be able listen to weather reports specific to your area, even if your home has no power or Wi-Fi.
These reports can alert you to any evacuation plans and the recovery centres closest to you.
When it comes to storm season, an ounce of prevention is worth a pound of cure.
By taking the steps outlined above, you'll be better able to weather the storm.
During and after the storm
Keep clear of windows during winds and hailstorms in case flying objects smash into them.
Avoid baths during electrical storms, as lightning can travel down trees and into nearby underground metal water pipes.
If the storm is extremely violent, move to a room with few windows, such as a basement or a toilet, and shelter inside.
If anyone is your family is seriously injured during the storm, dial 000. If your family is uninjured by feels threatened, contact your state emergency service on 132 500.
When the storm dies down, make sure it's well and truly over — and not just a temporary respite — before leaving your house. And look out for any fallen powerlines.
Check your home for damage and, if necessary, lodge a claim with your insurer.