Zeek and Zia create a bigger buzz than other new insurance ad offerings.
New character 'Dave' introduced to Australia in second 'Alien' TVC.
They're one of the most talked about couples at the moment, Zeek and Zia, Budget Direct's super smart, out of this world characters.
The radical new campaign has got people talking, one day they're watching Michael and Michelle in the shower, the next they've been replaced by a pair of aliens.
"We've been inundated with questions about Zeek and Zia, where are they from, why are they here, have the previous characters been abducted by our aliens?" says Jonathan Kerr Director Marketing and Digital, Budget Direct.
Well those questions will start to be answered with the launch of the next two TVC's in the campaign. The first goes to air on Thursday 5th September, quickly followed with another instalment from Monday 9th September.
According to social media monitoring system Radian6 (see table below), Budget Direct was the most talked about brand, when compared to others in the insurance market that also launched new TV Ads during the same period as Zeek and Zia's arrival.
"We've had just about every reaction imaginable. People angry that we copied our own advert, kids telling us they love Zeek and Zia and singing our famous song, we've even had Hamish and Andy trying to figure out what we are up to on their radio show.
"So far in terms of cut through and the sheer weight of brand mentions, compared to our competitors who launched new TV ads at the same time, we're really excited about how the new campaign has started," says Mr Kerr.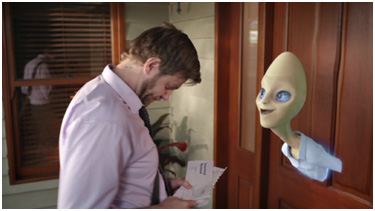 Once again Budget Direct has used the creative experience of Liquid Animation to bring Zeek and Zia to life.
The TVC introduces a new character, 'Dave', Zeek and Zia's next door neighbour. The audience starts to learn more about Zeek, and gets a first glimpse of his alien abilities. In the 30 second TVC we find out why Zeek selected Budget Direct for his car insurance, as his neighbour Dave deals with a nasty price hike from his current insurer. The third advert, again a 30 second TVC, shows just how smart Zeek and Zia are, while also pointing out what a smart choice Budget Direct is for home and contents
The campaign will feature not just TVC's but also continuing Large Format Outdoor, YouTube, Online Display, PPC and other tactical activity.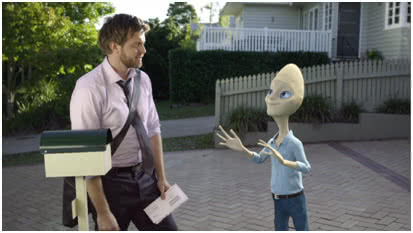 Zeek and Zia's Facebook presence has been another pleasant surprise for Budget Direct. Both already have thousands of fans with extraordinarily high levels of engagement.
"We're delighted with what the new campaign has done so far, the talkability is huge and people are really investigating why these smart aliens think Budget Direct is such a smart choice for insurance" says Mr Kerr.
Credits:
Liquid Animation – Mike Viner, Director; Geoff Viner, Producer; Damon Escott, Live Action Director; Georgie Uppington, Producer.
Hulsbosch – Hans Hulsbosch, Executive Creative Director.
Budget Direct – Marketing & Digital Department.

---
For further information or interviews please contact Jonathan Kerr, Director, Marketing & Digital, Budget Direct (Auto & General) at 07 3377 8801 or mediaenquiries@budgetdirect.com.au
Budget Direct was established as an insurance provider in Australia in 2000. It is part of the international BHL Group of companies headquartered in the British Isles. The group provides more than 6.8 million policies to insurance customers and administers $2 billion in premiums annually. Budget Direct offers Motor, Home & Contents, Health, Life and Travel Insurance as well as Roadside Assistance.