Disclaimer: This information is general in nature only. While Budget Direct has endeavoured to ensure the information we've relied on is accurate and current, we do not guarantee it. Budget Direct accepts no liability for this information.
Whether you're on a simple holiday road trip or travelling off-road for the first time, it is important that you plan your trip properly. The one item you leave behind is always the one thing you need most in an emergency.
So, pack your vehicle carefully because driving in remote regions demands careful preparation.
What you should know
There are a few things to keep in mind before you travel off road:
Make sure to choose the right time of year to drive. Midsummer driving in the Red Centre is uncomfortably hot and the top end of Australia is best explored in the dry season between April and October.
Check average temperatures and rainfall in the area for the time you plan to travel. Take note of nightly minimums too! In arid Australia the difference between the hottest part of the day and the cold hours before dawn can exceed 30°C.
Preparing to drive off-road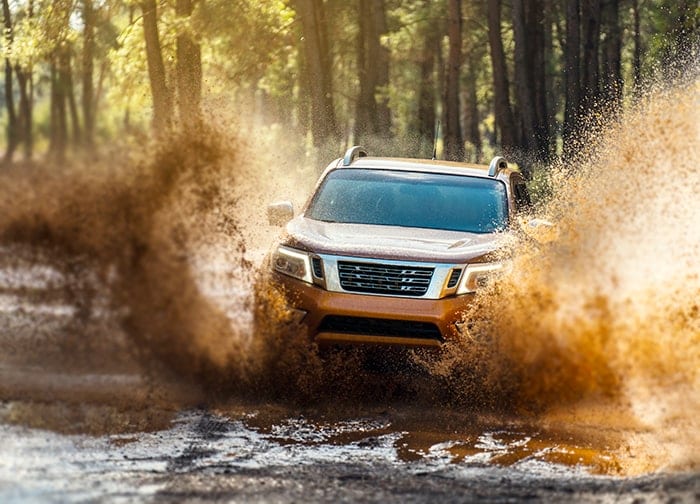 A great way to learn about driving off road is to enrol in a course through your state association four-wheel driving club or motoring association.
A basic vehicle maintenance course is also highly recommended before driving off-road. Many clubs will also organise regular trips for drivers of all levels to learn from experienced drivers in a safe environment.
While the ideal four-wheel drive may not exist, from a safety standpoint there are some important things to consider when choosing a car. Manuals are superior to automatics for hill work and towing however, automatics are handy when ploughing through deep sand without having to change any gears.
When choosing a four-wheel drive, the most relevant questions are:
How will I be using this vehicle?
How readily will I be able to get spare parts in remote towns?
Car accessories
Every accessory you add to a four-wheel drive has some effect on the vehicle's performance. A heavy bull bar weighs down the front end, a long-range fuel tank changes the centre of gravity and an electric winch puts extra strain on battery power.
You can easily spend over $10,000 to outfit a four-wheel drive for off road use, so talk to those who live and work off-road before spending money on any accessories. A four-wheel drive is heavy enough, but with water, food and fuel supplies; you won't want any extra weight dragging you down.
A dual battery system is also strongly advised, especially if you want to run additional winches, radios and mini fridges. A small fire extinguisher (specifically designed for vehicle use) is also recommended in case of an emergency.
Long-range fuel or water tanks are popular with some travellers. However, if they do spring a leak, you can slowly lose water or fuel while driving. Several separate water containers are a better option and are much safer too!
Metal jerry cans full of spare fuel should never be stored inside your vehicle – this can be very dangerous. Make sure that fuel cans are stored on the outside of the four-wheel drive preferably on metal racks fitted to the rear bumper.
You can also preserve water by storing it upright in sturdy plastic containers, packed tight to prevent jostling.
Winches and recovery equipment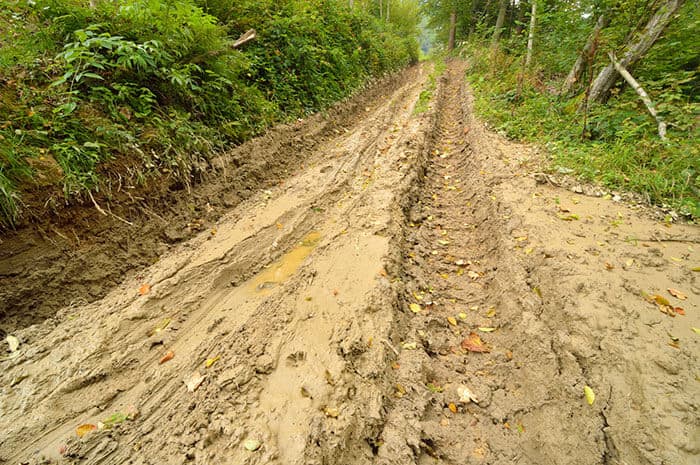 Getting bogged down in sand or mud can be avoided, even in off-road travel. When preparing to go off-road you should pack recovery equipment in case of an emergency. This type of equipment may include: a winch, a snatch strap and a large diameter pulley block.
There are four different types of winches you can use:
A hydraulic winch is powered by the vehicle's engine through a pressure pump. These winches are heavier than others and won't continue to work if your engine fails.
An electric winch is permanently mounted on the front of the vehicle and runs off the car battery. An electric winch puts more pressure on your battery, and this can be offset by installing a dual battery system.
A power take-off (PTO) winch runs off the engine in the gearbox or transfer case. Like the hydraulic winch it is heavier than others and won't work if your engine fails.
A manual winch is operated by hand and is the simplest and cheapest option. They work even if a motor or battery is dead and can be attached to the rear of a vehicle to pull it backwards.
A pulley block or snatch block is a piece of recovery equipment used to multiply a winch's pulling power. Power-operated winches slow down but provide more power while a manual winch is more physically demanding but the effort can be reduced with a pulley block.
Snatch straps are used between a bogged vehicle and a towing vehicle. They're made from sturdy webbing that stretches to supply extra pulling power when the towing vehicle accelerates.
Take the towbar out and attach the strap to the bogged vehicle's chassis where the towbar is normally fitted. Serious injury can result if a snatch strap breaks free from either end or you're standing nearby. And make sure to never use a snatch strap with a pulley block.
Vehicle recovery can be difficult and dangerous when improperly performed. It's always advised that you learn how it's done before you go off-road. Four-wheel drive clubs offer useful practical courses on winching and towing that you can take advantage of. They can also provide handy lists of the spares you should make sure to pack before going off-road.
Related article: How to get your car unstuck from mud or sand
Communication in remote areas
In an isolated area, owning a two-way radio or communication device will ensure that you can get help when needed. Mobile phone networks are fine for more settled regions but should never be relied on in remote areas, which are normally out of range.
Satellite telephones are a more expensive but very effective alternative, allowing communication from inside and outside Australia.
A high frequency (HF) radio lets you talk to other vehicles or contact the royal flying doctor service (RFDS) in case of an emergency. To operate a high frequency radio you must obtain a license and be allocated a registered call sign.
Maintenance
Getting regular maintenance checks leading up to your trip will help to avoid any vehicle breakdowns. It's recommended that your vehicle and all its parts are checked by a mechanic prior to long trips. This will keep you a step ahead of any potential problems.
Make sure to regularly look under the car for leaks and monitor the oil, fuel, water, tyres and fan belt daily. Keep an eye out for loose wheel nuts, cracked hoses, corrosion on battery terminals, worn parts or anything that 'doesn't look or sound right'.
Small mechanical faults can become a larger problem if they're not detected and fixed immediately while on the road. It's important that you know how to drive at a safe speed for the conditions, carry essential spare parts and take the time to inspect your engine when you travel.
The P.E.T.R.O.L. check
A daily maintenance routine is essential for safe off-road driving. Use the acronym P.E.T.R.O.L as a reminder of what to check. This check only takes a few minutes and you can do it at least once a day!
P – for Petrol. Check fuel level
E – for Electrical. Check battery terminals and levels
T – for Tyres. Check pressure; check sidewalls for cuts
R – for Radiator. Check coolant level
O – for Oil. Check oil level
L – for Lights. Check all vehicle lights are functioning
Tyres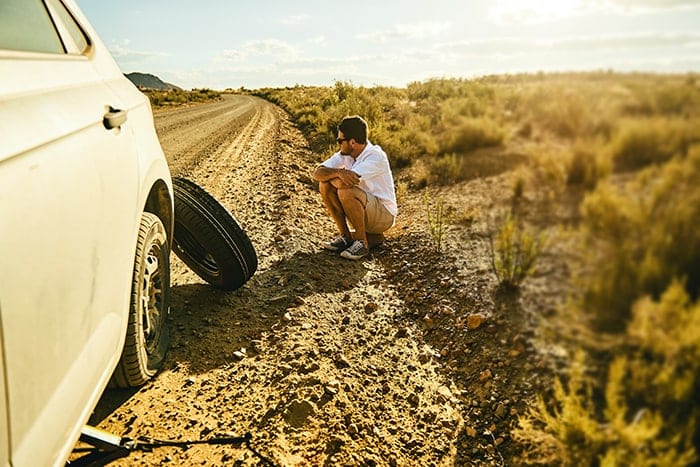 On bumpy off-road tracks it's not uncommon to get two or more punctures within a short time, even with new tyres. Make sure to always mend punctures as soon as they happen and carry at least two spares; one spare inner tube and a puncture kit that includes an inner sleeve.
Pack a large rubber mallet and a quality tyre lever to break the bead; a 'tyre plier' or similar tool is also very handy. When replacing the rim, a bit of liquid detergent on the tyre bead will make it slippery and slip back on more easily.
Different types of tyres are suited to different conditions. Wide tyres for instance, aren't great to drive on wet roads but work well in sand. Make sure that you choose the right tyres and keep records of the air pressure that works best in different conditions.
You can buy electric air pumps that are quick and easy to use. Keep in mind that a hand pump should also be packed in case of an emergency. Make sure to also carry an emergency plank base to put underneath the jack when needing to change a tyre.
Be a safe driver
Are you taking risks? Driving in unsafe track conditions can lead to unwanted accidents off-road.
Here's how you can be a safe driver off-road:
Slow down when driving to put less strain on your vehicle and have a better chance of getting home safely.
Slowly walk through a creek crossing first to gauge depth and work out where the best places are for tyre grip.
For deep crossings, wrap a tarp around the radiator area at the front of a vehicle to keep water from flowing into the engine and drenching it.
Reduce tyre pressure to about 15-20 psi for better traction on deep dry sand. Just remember to re-inflate to normal pressure once you're back on hard roads.
Other major off-road hazards include:
Corrugations – you must slow down when corrugations are in sight.
Road trains – if a road train is approaching you must get right off the track, stop and let it pass.
Bulldust – A fine, powdery road dust. You can keep it out of your car to some extent by rolling up windows and turning up the air conditioning.
Make sure to take care in bulldust areas. A deep pothole full of dust can be well disguised and cause damage if you plough into it too fast.
The minimal light and the high animal activity can make it difficult to drive at night time.
Wherever you go in Australia, make sure that you're safe, happy and well-prepared when travelling off-road.