Buying a used caravan is a big commitment. Not only is it a major financial investment, but it also marks the beginning of an exciting new chapter of your life. As such, selecting which caravan to buy is a decision that should not be made lightly. Rather, it requires a significant amount of research and preparation.
This is particularly true for people buying a caravan for the first time. With so many factors to weigh up, it's easy to get overwhelmed. Consequently, it can be hard to know if you're making an informed, practical decision and purchasing a caravan that's right for you.
However, this decision-making frenzy shouldn't detract from your overall experience. After all, buying a caravan should be a fun, exciting, and rewarding process. So, to help ease the stress and allow you to make a confident, informed decision, we've put together this caravan buying guide. It's full of handy checklists and tips for buying a caravan for the first time. Covering everything from what questions to ask, to what to bring along to the inspection, we've thought of it all, so all you have to do is buckle up and enjoy your caravan!
Doing your research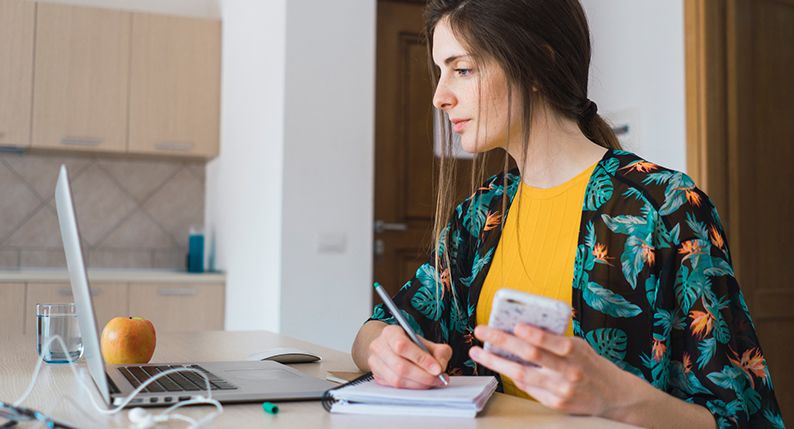 Buying a used caravan requires plenty of research. As much as we wish it could simply be a case of buying the caravan and getting straight to the fun part, unfortunately, research is unavoidable. In fact, that's probably why you're here. If so, congratulations, you're part way there!
To get the ball rolling on your used caravan research, it's important to ask yourself one simple question: why do you want to buy a caravan? Don't worry, it's not a trick question. Will it be for family use, or are you hoping to take a solo trip? Do you plan to use it all the time, or just a couple of times per year? Your answer to these questions should inform all of your subsequent research. For example, a smaller caravan probably won't be suitable for family trips, while a caravan with a few more kilometres under its belt might not be suitable for rugged adventures.
Basically, the intended purpose of your caravan can greatly impact what you end up buying, so it's important to have a clear set of parameters in mind. Once you're crystal clear on the reasons that you want to buy a caravan, it's time to start drilling into more specific research.
Naturally, there are heaps of sites that sell used caravans, so we suggest setting aside an afternoon to browse through, eliminate any options that definitely won't suit your needs, and create a shortlist of suitable options. Once you have this shortlist, it's time to move onto step two.
What to bring to an inspection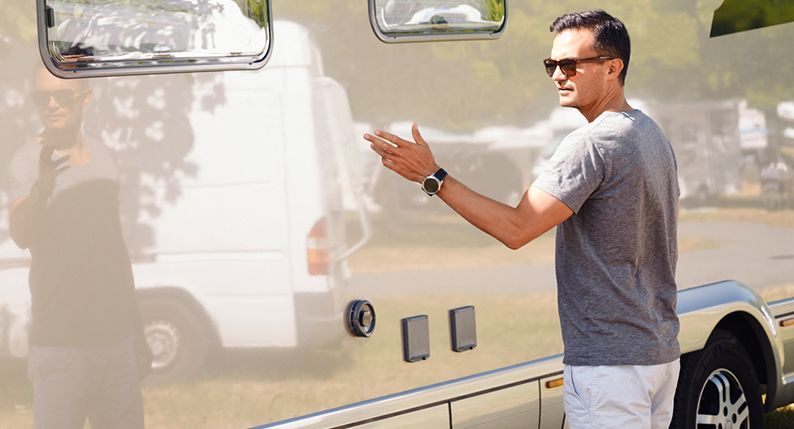 You can do as much online research as you want, but you won't really know if a caravan is right for you until you inspect it in person. After all, camera angles can be deceptive, and it's possible that what was described as 'normal wear and tear' online can actually mean 'barely roadworthy' in real life. So, to avoid any nasty surprises, you'll want to organise an inspection of any caravans you think might be suitable. Preparation is key, so to ensure your inspection goes smoothly, here are a few items you should bring with you:
A tape measure to check the caravan's specifications

A torch/phone light to inspect difficult-to-view areas, particularly underneath the van

A pre-written checklist of non-negotiables, so you don't forget on the day

A notepad and pen to write down any thoughts, observations, or questions you have throughout the inspection

A damp meter to ascertain the caravan's moisture levels


A camera so you can take photos to peruse later – it's amazing how much you forget when you're trying to make your final decision


A friend – a second opinion never hurt, particularly if this is your first time inspecting a caravan

Exterior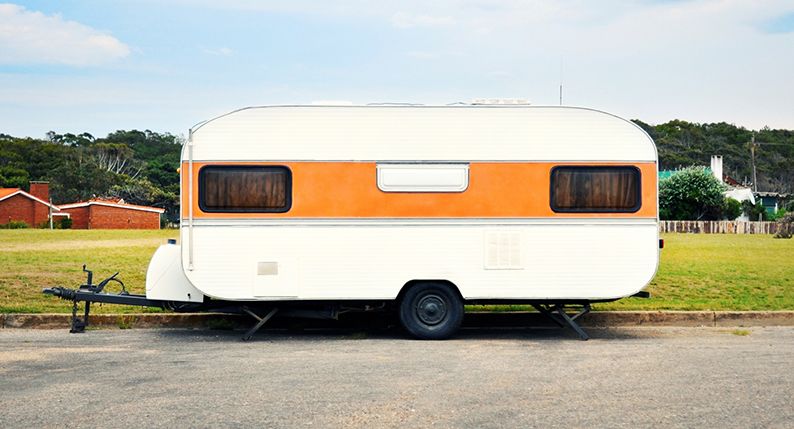 The big day has finally arrived and you're about to inspect what could be your dream caravan. You've come prepared and have a clear purpose in mind. Now, you're staring at the caravan's exterior. Here are a few things you should look for:
Rust – particularly underneath the caravan

Dents, marks, or scratches (don't forget to check the roof)

Check for leaks

Make sure the windows and doors open, close, and lock properly

Check the condition of the tyres

Check the axles and suspension are in good condition

Check the chassis

Check the seals around the windows, doors, and vents are in working order

Check the gas and electrical connections work (if applicable)

Check that the tow hitch works and is compatible with your car

Check the brake pads

Check the headlights and brake lights are functional

Check the caravan's battery

Check underneath the caravan as well as on the roof
Once you're satisfied all of these things are in order, it's time to move on to the interior.
Interior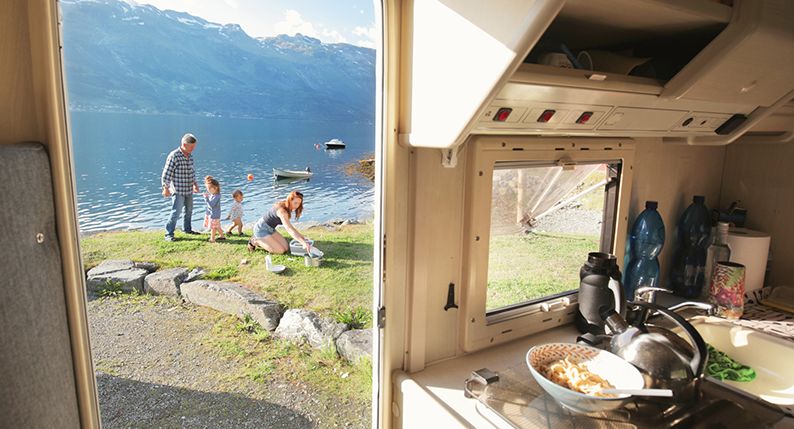 Since you'll be spending a lot of time inside this caravan if you decide to purchase it, it's worth taking your time to ensure the interior ticks all of your boxes. In particular, you'll probably want to look for:
Any bad smells/odours

Check that the lights and other electronics are operational

Check that any water sources (i.e. shower, sink) work properly

Check that any appliances work

Check the condition of any furniture

Check for any signs of dampness (this is where the damp meter comes in handy)

Check for any discolouration/dents on the walls, roof, cabinets, etc.

Check that the caravan has adequate safety equipment (smoke alarm, fire extinguisher, etc.)

Check that the floor/carpet (if applicable) is in decent condition

Check that the drawers, cupboards etc. are in decent condition

Check for any signs of insects or pests (especially ants)

Check that the ceiling is in good condition
Buying a caravan for the first time? Some questions to ask: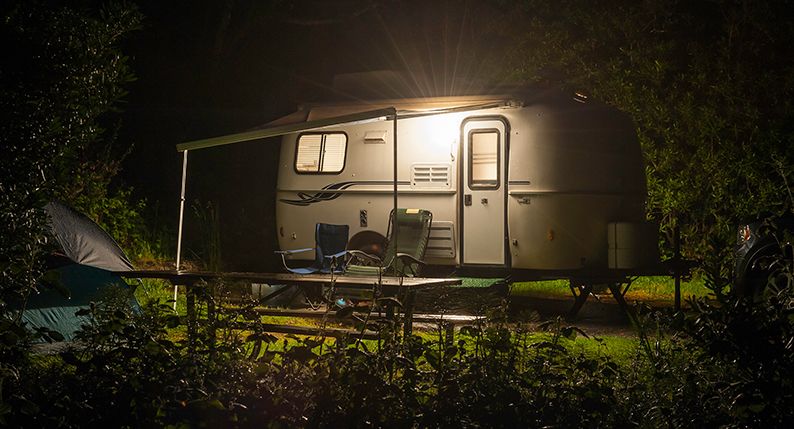 You've checked the caravan inside and out and are satisfied that it's up to scratch. Obviously, if you're purchasing a used caravan, you might have to compromise on some of the above factors depending on the asking price and your specific needs. Still, you should never compromise on anything that might risk your safety. Further, things like rust and water damage can be expensive to repair, so you should take this into consideration before making your final purchasing decision.
Finally, before you make up your mind, here are a few more questions you might want to ask the seller:
How old is the caravan?

Has the caravan had any previous owners?

Where has the caravan been driven in the past?

Where has the caravan primarily been kept (i.e. undercover or outside)?

Ask to view the caravan's logbook/service history and any other relevant documentation

Are spare parts still available for this make/model of caravan?
If after all this you're still satisfied, then it's finally time to get to the fun part: buying the caravan and enjoying the awesome perks of being a caravan owner!