Recent flash hail storms in Perth have forced Budget Direct, the leader in hail prediction technology, to issue an early summer hail storm warning, urging residents to stay alert to the increased threat of hail during the summer months.
Budget Direct's Head of Hail Innovation Paul Malt said scattered hail storms in the region on September 4 could be an early indication of the nature of the summer storm season ahead.
Mr Malt urged Perth residents to be prepared by learning how to spot and safely avoid potential hail.
"The flash hail storms we saw just over a couple of weeks ago are an early and timely reminder of the damage that can be caused by larger, more severe summer hail, like the Perth hail storm in 2010," Mr Malt said.
"The months leading up to summer are really the start of the severe hail storm season, where we begin to see bigger, more damaging hail stones.
"The Perth hail storm in late March of 2010 was one of the most severe hail storms in recent memory to hit the region and it occurred just after the end of the summer months.
"People forget big weather formations can harbour large hail stones and because of this they're often caught out when the storm hits.
"If you're in your vehicle and you see a large storm formation made up of dark clouds, sometimes with a green tinge, we recommend you safely pull over and listen to the radio for a weather warning.
"If a hail storm is in the vicinity you should safely drive your vehicle home if possible, or to the nearest shelter such as a shopping centre car park, but never rush though as far too many accidents occur as a result of hurried driving.
"A protective car cover is useful, but only fit this to your vehicle if you have sufficient time to get yourself and your loved ones indoors and away from the hail.
"Never park your car under trees and powerlines, or near creeks or drains, because this could cause further damage to your car, or even worse, to yourself."
Mr Malt said Budget Direct was an industry expert at alerting Australian motorists to the threat of hail in their neighbourhood.
"Budget Direct's 'Hail Hero' is the only hail prediction system of its kind operating in the country," Mr Malt said.
"Within five minutes of receiving a storm warning we are able to send an SMS to affected policy holders giving them at least 10 minutes warning of an approaching hail storm.
"While the Bureau of Meteorology provides storm warnings to the public, they are more general in nature which makes it difficult for motorists to anticipate if they will be affected by a hail storm.
"Since its launch just over a year ago, we've tracked 1109 hail storms and alerted over 327,814 Australians to the threat of hail."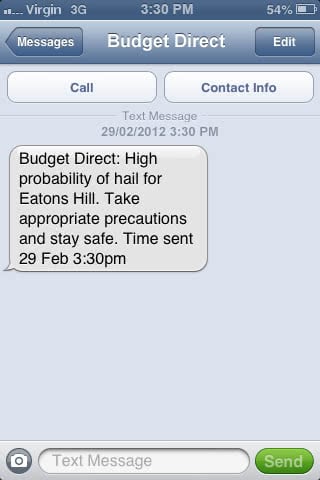 ---
For further information or interviews please contact Jonathan Kerr, Director, Marketing & Digital, Budget Direct (Auto & General) at 07 3377 8801 or mediaenquiries@budgetdirect.com.au
Budget Direct was established as an insurance provider in Australia in 2000. It is part of the international BHL Group of companies headquartered in the British Isles. The group provides more than 6.8 million policies to insurance customers and administers $2 billion in premiums annually. Budget Direct offers Motor, Home & Contents, Health, Life and Travel Insurance as well as Roadside Assistance.