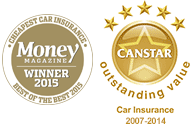 Multi-award Winning Car Insurance
We're the only Insurance provider to win the coveted National CANSTAR award for Outstanding Value every year since it was first presented in 2007. We also won Money magazine's Cheapest Car Insurance 2014.
Car Insurance Brisbane
Brisbane seems to be everyone's new favorite destination these days, which means there are more cars on the road than ever before.

So you definitely need car insurance in Brisbane.

And Budget Direct can get you the insurance you need, with its Third Party Property, Third Party Fire and Theft and Comprehensive car insurance policies. Simply compare them to find the one that suits you, and then check the relevant Product Disclosure Statement to make sure it has everything you need.

Brisbane has its fair share of accidents like every other capital city. And even when it's not your fault, accident expenses can get very costly very quickly.
So make sure you're covered. Give us a ring or get a quote online now.
Smarter Benefits
A lifetime guarantee on repairs for as long as you own the car.
A 21-day money back guarantee if you change your mind.~
The convenience and peace of mind of our
24-hour Claims Helpline.
Location Information Pages