Disclaimer: This information is general in nature only. While Budget Direct has endeavoured to ensure the information we've relied on is accurate and current, we do not guarantee it. Budget Direct accepts no liability for this information.
Home fires can happen in a matter of seconds. And while you may know some of the more obvious fire hazards to look out for there may also be some hidden home fire hazards that you should be aware of too.
All too often these types of house fires (while unexpected) can be prevented. You can keep your family and home safe from fire hazards by performing regular fire safety checks in the home and using trusted fire safety practices (where necessary).
With our guide, you'll be able to identify common fire hazards (hidden or not) in the home and ultimately help ensure that everyone inside the home is safe.
Cooking equipment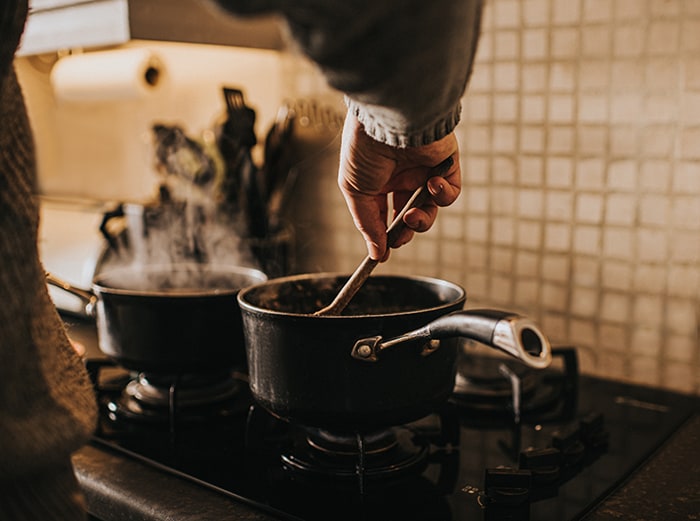 According to Fire & Rescue NSW, half of all residential fires they respond to in a year start in the kitchen and are mostly due to unattended cooking.[1] Pots and pans can heat up very quickly and if left unattended they can create a potential fire hazard.
Make sure to stay in the room while cooking with a stovetop or oven and ask someone else to watch your food if you have to leave the room. You should also consider buying a fire blanket and/or extinguisher and storing it near the kitchen in case of an emergency.
Stoves
Your stove can become very flammable if it isn't cleaned properly after each use. This also extends to a stove grill, rangehood filter and general kitchen appliances too. Make sure to clean and clear the area around the stove before turning on the heat too!
Grease build-up and other grime on stovetops, countertops and inside ovens is the kind of fuel that can not only start a fire but also cause it to spread quickly. Fires are unpredictable (especially in the kitchen) making them an important fire hazard to stay on top of.
Heating
Heaters are a common cause of house fires and should be kept away from anything that can easily catch fire like furniture, curtains, laundry, or clothes.
It's best to keep everything, including children, at least one metre away from your heater at all times and if you suspect any type of fault make sure to have the heater serviced or replaced immediately.
Lighting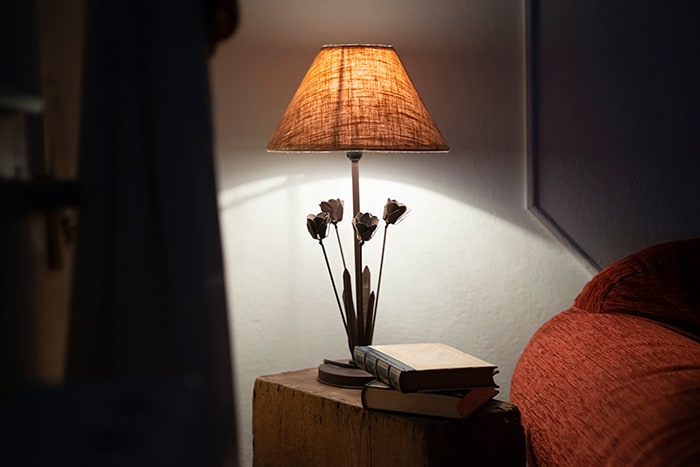 Heat can build up very quickly when a light bulb is close to a light fitting. Lampshades and bases can also be considered a hazard especially if they're able to be knocked over easily.
A bulb with a wattage that exceeds your lamp's design can also be a fire hazard. Always ensure you use a light bulb suitable for your lamp and by the manufacturer's instructions.
If you're looking to install downlights in your home make sure they are insulated from wood panelling or ceiling timbers. By taking this extra step you'll be ensuring that a potential fire hazard isn't created in your home.
Dryer
To avoid a fire hazard you should always ensure that you don't leave your dryer running when you're not at home. There should also be enough airflow around the dryer at all times.
It's also very important that you clean your dryer regularly before it becomes fuel for a fire. Clean the lint filter before or after using your dryer to prevent built-up lint from catching on fire.
And once a year the dryer's entire venting system should be cleaned from the inside out as part of maintenance.
Cigarettes and candles
When left unattended a lit candle or a cigarette butt could burst into flames if it came into contact with flammable materials like furniture, books, or tissue boxes. It's best to ensure that cigarettes and candles are properly extinguished before you leave the room.
You should always keep candles away from curtains with open windows and avoid smoking inside especially while you're in bed. Keep matches and lighters out of reach of children, using child-proof lighters and deep ashtrays, and making sure that an adult is present at all times when a candle is being used are other ways to reduce fire risk.
Smoke alarms
When you're asleep you won't smell the smoke from a fire and are twice as likely to die in a home fire if you don't have a working smoke alarm. An important part of any home fire escape plan, a smoke alarm will alert you when there's a house fire.
It's best to ensure that your smoke alarm is fully functional, doesn't have any faults and is in an area of your home where you can hear the alarm. Photoelectric alarms are a great option, especially in kitchens, where they detect visible particles of combustion.
Interconnected smoke alarms will also soon be mandatory in rental properties with Queensland introducing new smoke alarm legislation effective 1 January 2022.
Electrical appliances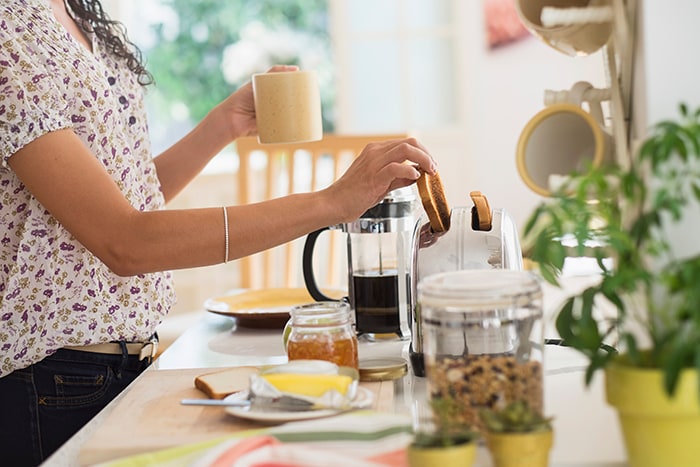 A faulty electrical appliance can easily start a fire in the home. This is why all appliances (as well as electrical leads) must be regularly checked for potential damage or faults.
Don't overload power points and power boards with double adapter plugs because this can cause a fire from the overuse of electricity. A powerpoint extension cord can also be another potential fire safety hazard if not used correctly in the home.
A great habit you can adopt is turning off all electrical appliances at the powerpoint before you go to bed!
Electrical wiring
Never use faulty electrical leads or wiring. If your home has faulty wiring then this can cause a fire. Electrical hazards can be found in dim lights, blown fuses or a tripping circuit. Movement in loose electrical outlets can also loosen the wires connected to the outlet and create a potential fire safety hazard.
If you suspect that your home has faulty wiring then it's best to have an electrician come and assess your home before you start making any changes.
Barbecues
Barbecues are great for cooking and should always be kept outside the home and away from anything flammable. Make sure your grill is not directly under any part of the house and if the flame on your barbecue goes out wait the recommended amount of time from the manufacturer before reigniting the grill.
Barbecues should be cleaned regularly (including the grease trap) with soapy water to ensure that there is nothing left on the barbecue that could start a fire. It's also very important that you check the gas bottle for any leaks before each use.
Sources