Kitchen renovation industry professionals
We asked them:
I want my kitchen to feel spacious and welcoming, where do I start?
Rosanna Pappalardo
A great starting point is looking at what areas of your kitchen you dislike or need replacing; and what you would like to have to renew your love of your kitchen. Next step is to look at how much you can invest in your kitchen renovation – quality is important as this is a well-used space so durability and reliability are a must-have. Once the investment amount is identified then you start looking at what needs to change versus what you want changed!
Two elements that cost next to nothing that will make your kitchen feel spacious and welcoming are natural light and decluttering of benchtops or open shelves. Whether you need to capture natural light from the clever use of glossy or reflective finishes; or from changing a window covering that currently smothers the light filtering from outside. Next, look at adding various levels of artificial light to create "moods" – pendant lights to define a space, downlights to provide an all over task light or LED strip lighting to create ambience, interest or accent. The finishing touch would be adding something from nature – fresh fruit in a bowl or fresh soft scented flowers in a vessel!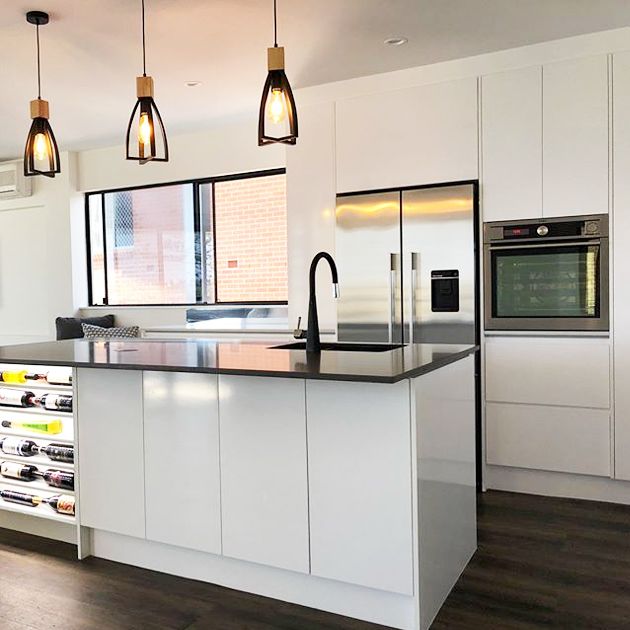 Grant Hiscock
Before the planning, think about how you use your kitchen day to day. Think about how you cook, how you buy and store your groceries, what appliances you need to store and which ones are out on display. Then take a look at where your kitchen will be. What is the light flow? What is the outlook? How does it fit within the rest of your home?
Now the layout. Try to create separate 'zones' that work both as independent areas and as a part of the whole. For example, the cleaning zone would include the sink, dishwasher and cleaning chemicals but is close to the storage of plates, cutlery and glassware. Also try to avoid 'awkward' areas within your layout. Such as doors that open past the access point or in front of other often used appliances. Finally, look at the lines of your kitchen. Where possible draw long straight lines. Line up your drawer fronts and doors, integrate your appliances, under mount your sinks, keep your splashback the same height and ample space between benchtops. These lines will help to trick your eyes into thinking the room is larger.
How do I choose a colour scheme or materials that I know I'll still love in 10 years time?
Grant Hiscock
How you are going to use your new kitchen will greatly impact the colour scheme and the choice of materials you use. There are so many products on the market that are available. Each one has its pros and cons. For example, you have a lot of different quartz benchtop brands, all very similar in construction and performance. However, none are warranted if used outside, even in a covered alfresco. The only options here are natural stone products or compact laminates.
One of the trends at the moment is to use more than one colour where possible. This can be achieved by using two or more colours in the cabinetry, two different benchtops, feature overhead cabinetry and veined quartz or porcelain splashbacks. The benefit of today's products is the choices in colours across all of them. The trick is in getting the balance right across the design of the kitchen and the surrounding rooms. Regardless of colours, knowing how your products will perform over time is just as important.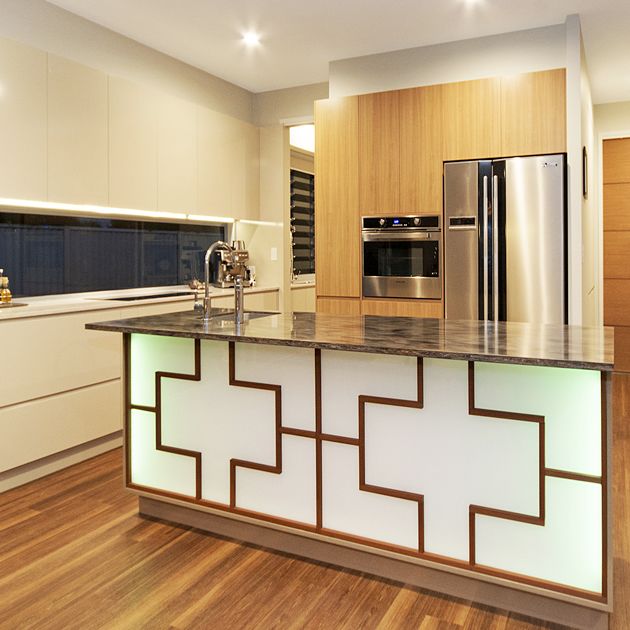 Rosanna Pappalardo
Classic and neutral is the simplest way to choosing a colour scheme that will stand the test of time, whether as a trend or as an individual taste. The key, however, is adding an accent colour to create interest - it will give you the versatility to change without the expense of having to replace the whole kitchen! The accent colour can be a flavour of the moment or a current colour trend used in small amounts. It could be added in decorative items such as a fruit bowl, LED strip lighting, bar stools, pendant light shades, splashback or even tapware!
As for materials, kitchens are places that experience the highest traffic, host a variety of activities and a must-have in every home. Materials that are durable for their purpose is extremely important. Sticking to the neutral/classic colour scheme will ensure the materials you choose; you will continue to love; however, practicality is the key to making the right decision. Pure white looks great but will it be practical for a family situation if chosen for the floors or the benchtop? Your love will diminish over the years with the maintenance of keeping it clean!
I really want these changes to increase the value of my home, but I want to be savvy. What can I do that will make a difference, but won't cost a fortune?
Rosanna Pappalardo
Kitchens sell homes with bathrooms not far behind. They are the costliest room to renovate, so being savvy where you spend the money is important. The look is the first and lasting impression for a buyer, so keeping it classic/neutral in colour will appeal to a broader market. If renovating, don't go down the path of gutting the kitchen and replacing with a new one, unless it will resolve functional issues or enhance the potential of the house as a whole.
Simple changes like respraying or replacing just the door panels and drawer fronts and changing the benchtop may be sufficient. Overlaying stone over the existing laminate benchtop rather than replacing can save money; or if replacing select a stone colour that is from the standard range. Most standard ranges of any product generally have the classic, neutral colour choices. If changing the benchtop is not in the budget, then look at just changing the door and drawer handles, tapware and sink, drawer runners and hinges; and the splashback. A simple white, glossy splashback can sometimes uplift a kitchen without too much expense. Ensure there is good lighting, as noted previously, three levels of lighting being task, general and accent.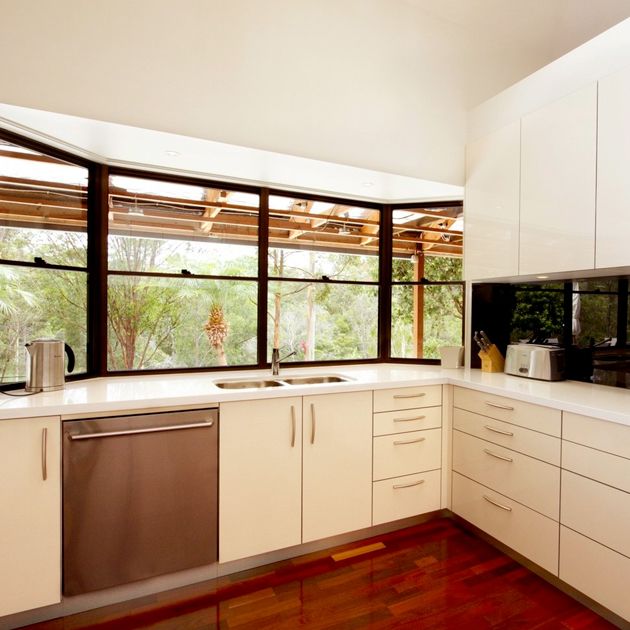 Grant Hiscock
We all know that kitchens sell houses. It is the one room that you can truly say is the heart of the home. They are also one of the more expensive rooms to renovate, so getting the balance between good and bad spend is very important. The first question you should ask is how long are you planning on staying after the renovation is done? If you are 'doing the kitchen' to sell the home, your choices in materials, appliances layout is totally different to what it would be if you were planning to stay. For instance, to sell, possibly a new quartz benchtop, new appliances, new doors and drawer fronts and handles could get you through. However, longer term, it could be false economy. What you are leaving behind is the structure and foundation of your kitchen and just replacing the 'pretty' aspects. While this won't detract value, it might not add value either.
The one thing to remember is good, savvy design doesn't cost any more than poor design. I would strongly suggest speaking with a professional kitchen designer. They will listen to how you use the space, find out the limitations and what you enjoy about the space and create a new design around those issues and keep your budget in mind. They will match both form and function, within your budget range, to deliver the design that works for both you and your home, thus adding more value to your property.
Neither Auto & General Insurance Company Ltd nor its representatives necessarily endorse or recommend the views of the contributors. Please check the Product Disclosure Statement for any limitations in cover when altering or renovating the home.