Elective surgery waiting times at public hospitals are worsening with some patients waiting more than a year for eye surgery or hip replacements, according to national figures.
The Australian Medical Association (AMA) Report Card released on Friday showed elective surgery waiting times have worsened in the past year, and "treatment times have only improved marginally".
AMA President Dr Michael Gallon noted: "Without sufficient funding to increase capacity, public hospitals will never meet the targets set by governments, and patients will wait longer for treatment."
Elective surgery waiting times are expected to continue to rise as the population ages, highlighting the importance of taking private health insurance today, says Mark Goonan from Budget Direct Health insurance.
"With private health insurance you can select your doctor and the hospital where you want to have the surgery – potentially bypassing hospitals with long waiting lists for specific surgical procedures," says Mr Goonan.
Recent talk of rate increases might make it tempting for younger people to ditch their health insurance to save on premiums, however he warns the Lifetime Health Cover loading fees incurred for delaying cover can make a big impact later when you take out insurance later on.
"Eye, ear, nose and throat and orthopaedic surgery all have long waiting lists – and you don't need to be elderly to require a knee or hip replacement," says Mr Goonan. "Depending on your job you may need to take time off work while you wait for surgery, which could have a major effect on your lifestyle."
Mr Goonan noted investing in affordable health cover options such as those offered by Budget Direct, could mean significant savings in money and waiting time down the track.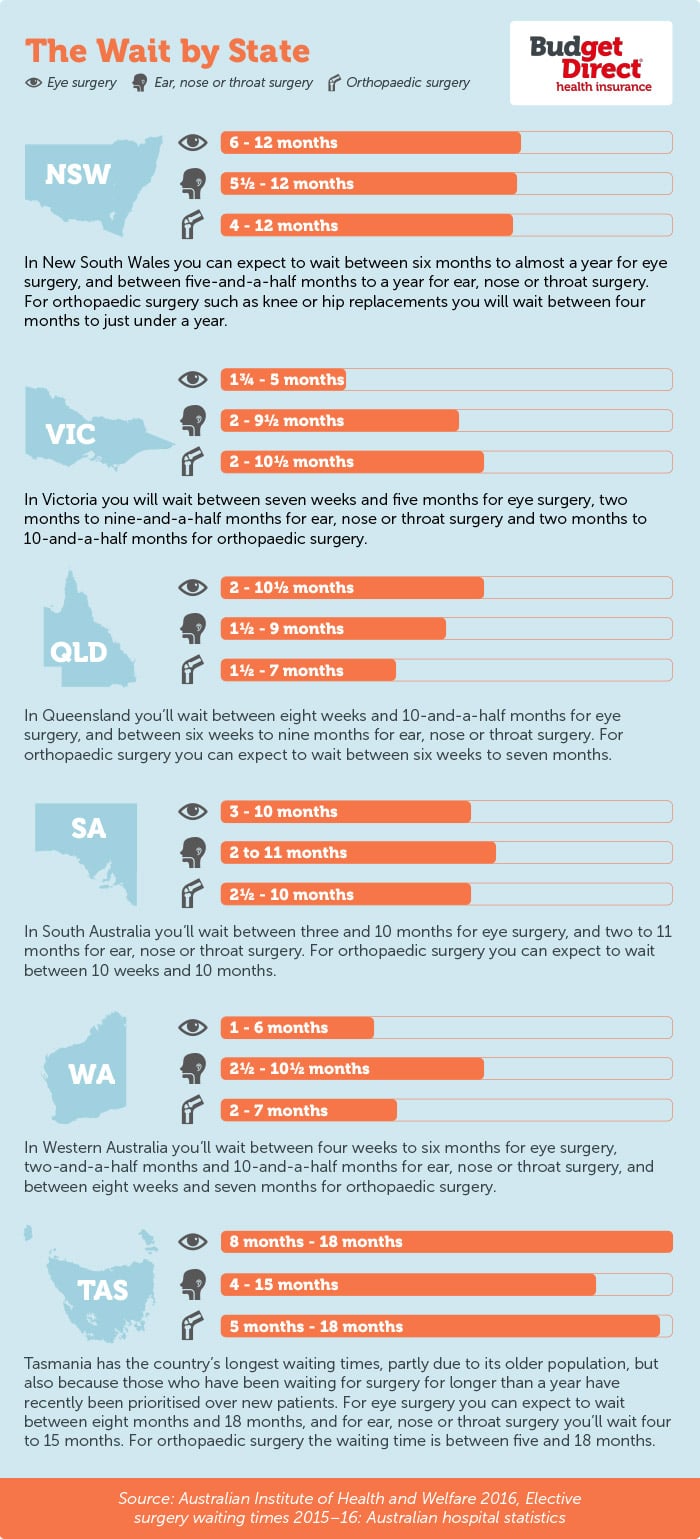 ---
For further information or interviews please contact Jonathan Kerr, Director, Marketing & Digital, Budget Direct (Auto & General) at 07 3377 8801 or mediaenquiries@budgetdirect.com.au
Budget Direct was established as an insurance provider in Australia in 2000. It is part of the international BHL Group of companies headquartered in the British Isles. The group provides more than 6.8 million policies to insurance customers and administers $2 billion in premiums annually. Budget Direct offers Motor, Home & Contents, Health, Life and Travel Insurance as well as Roadside Assistance.