Elective surgery waiting times at public hospitals are worsening with some patients waiting more than a year for eye surgery or hip replacements, according to national figures.
The Australian Medical Association (AMA) Report Card released on Friday showed elective surgery waiting times have worsened in the past year, and "treatment times have only improved marginally".
AMA President Dr Michael Gallon noted: "Without sufficient funding to increase capacity, public hospitals will never meet the targets set by governments, and patients will wait longer for treatment."
Elective surgery waiting times are expected to continue to rise as the population ages, highlighting the importance of taking private health insurance today, says Mark Goonan from Budget Direct Health insurance.
"With private health insurance you can select your doctor and the hospital where you want to have the surgery – potentially bypassing hospitals with long waiting lists for specific surgical procedures," says Mr Goonan.
Recent talk of rate increases might make it tempting for younger people to ditch their health insurance to save on premiums, however he warns the Lifetime Health Cover loading fees incurred for delaying cover can make a big impact later when you take out insurance later on.
"Eye, ear, nose and throat and orthopaedic surgery all have long waiting lists – and you don't need to be elderly to require a knee or hip replacement," says Mr Goonan. "Depending on your job you may need to take time off work while you wait for surgery, which could have a major effect on your lifestyle."
Mr Goonan noted investing in affordable health cover options such as those offered by Budget Direct, could mean significant savings in money and waiting time down the track.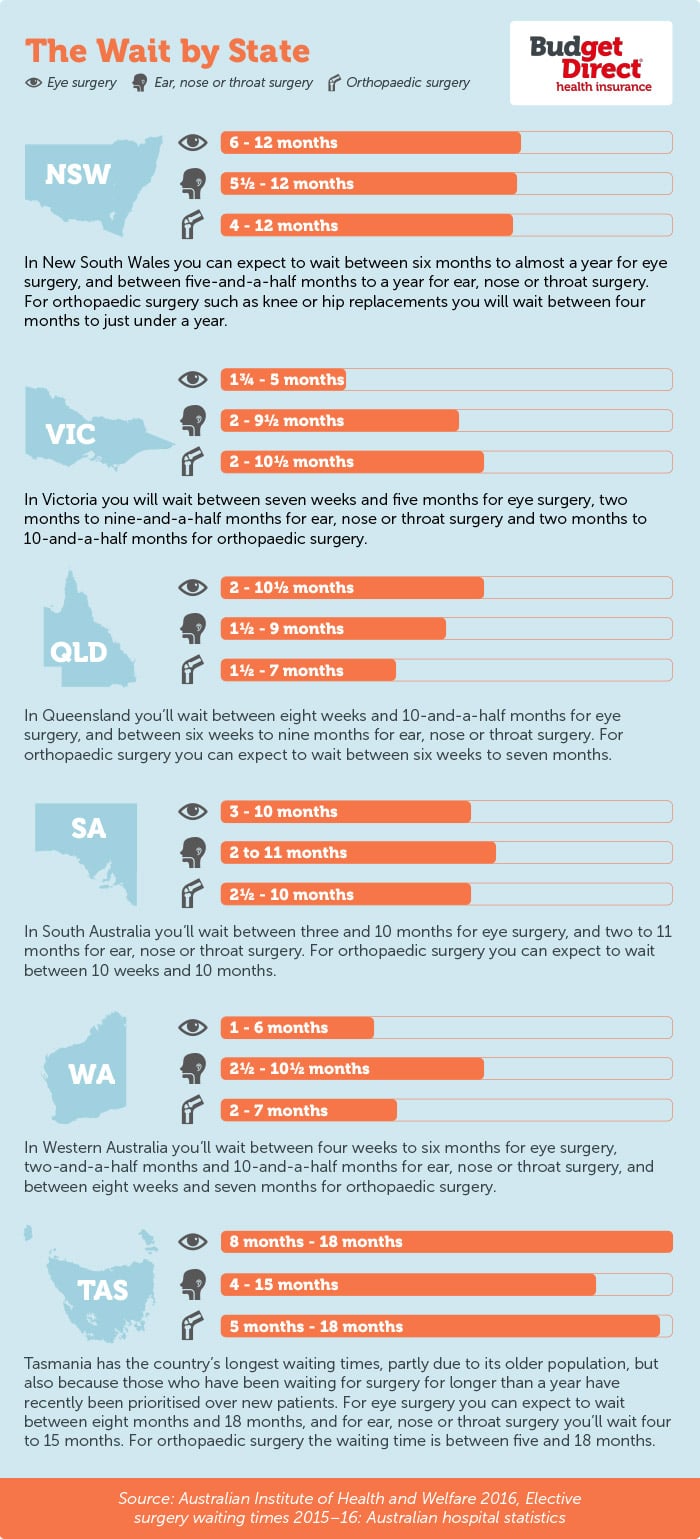 About Budget Direct
Budget Direct was established as an insurance provider in Australia in 2000 and is one of Australia's award-winning and fastest growing insurance companies.
Budget Direct offers Motor, Home & Contents, Pet, Life and Travel Insurance as well as Roadside Assistance.
Budget Direct is a multi-award-winning insurer having won Money magazines Insurer of the Year 2021 for the fifth year in a row and Canstar's Outstanding Value Car Insurance 2021 for 15 years in a row amongst many other awards. Our policies are underwritten by Auto & General Insurance Company Limited, an Australian insurance company regulated by APRA and a member of the Insurance Council of Australia.
About Auto & General
Auto & General has specialised in the sale, management and underwriting of insurance products in Australia since 2000. Our insurance products include car, home and contents and travel. We provide insurance for a number of brands including Budget Direct, 1st for Women, Ozicare, Virgin Money, and ING. We have contact centres based in Queensland and claims assessing centres in Brisbane, Sydney, and Melbourne, in total employing in excess of 1500 people. Our commitment to providing exceptional service has seen the company win multiple industry awards.
Media Contact
Email: [email protected]
Want your Insurance Solved™ with Budget Direct?